Jumblatt urges Hariri to support Suleiman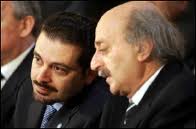 During a phone conversation between former prime minister Saad Hariri and Progressive Socialist Party leader MP Walid Jumblatt, the PSP leader urged the former PM to support Lebanese president Michel Suleiman and and his persistent efforts to preserve stability in Lebanon.
Jumblatt told Hariri: " My only wish is supporting the president and his persistent efforts to preserve stability and protect civil peace," a statement by PSP media office said.
The conversation comes after Suleiman tried to repair the relations between the former PM and the PSP leader in line with his efforts to promote dialogue in Lebanon.
"The conversation was friendly and warm and tackled the current political developments," said the PSP statement.
Suleiman intervened after , Hariri Last Thursday slammed Jumblatt for refusing to ask his ministers to resign from Hezbollah dominated cabinet of PM Nagib Mikati .
"May God forgive you Walid Beik. You understand stability as staying in the Syrian-Iranian axis, so congratulations," Hariri tweeted last Thursday.
Jumblatt responded by saying: "May God forgive him about all these remarks."