Turkey to ask NATO to deploy Patriot defense system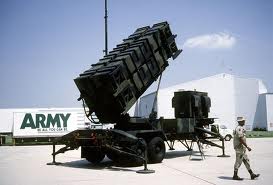 Turkey plans to officially request NATO deploy a Patriot missile defense system in its territories as a security precaution against a potential large-scale military offensive from Syria as Syrian shelling on the border raises tensions.
"We have been closely working with NATO on contingency plans regarding the developments in Syria and these plans also include the deployment of missile defense systems in Turkey," a senior Turkish diplomatic source said Oct. 30. "We are planning to make this request in the case of escalation of the scale of attacks against us."
Turkey has invoked Article 4 of the NATO treaty twice, which provides for consultations, after the downing of its jet and the killing of five Turkish citizens in a Syrian shelling, but took no action in pursuing Article 5, which considers an attack against one member an attack against all. "We have received sufficient support from NATO so far. The last statement NATO issued after the Akçakale incident was very powerful. We continue to be in close dialogue with the alliance," the source said.
Turkey has requested the deployment of Patriot missile defense systems twice in the past, both in the context of the Iraqi war in the early 1990s and 2000s. In both cases they were deployed by the Netherlands, as only a few countries have such missile systems. "I would not be surprised if Turkey would soon make such a request," a diplomat from a NATO country said. "The situation is getting worse in Syria, and it's the right of Turkey to take necessary security measures."
The Turkish diplomatic source dismissed claims that Turkey would ask to use NATO's early warning radar system located in the Kürecik province of Malatya in Eastern Anatolia, because Turkey's national radar system was capable of tracing Syrian missiles.
Turkish diplomatic sources have also fiercely reacted against U.S. Army Europe and Seventh Army Lt. Gen. Mark Hertling's comments last week that it is not clear who is shooting shells from Syria into Turkey. "We are not sure if these shells are from the Syrian army, from rebels who want to get Turkey involved in the issue or from the outlawed PKK (Kurdistan Workers' Party)," he said.
The source said, "The bombs that landed in Turkey show they are Russian-made Douchka bombs. What he said is really ridiculous."
Hurryiet daily