Former U.S. Sen. George McGovern Dies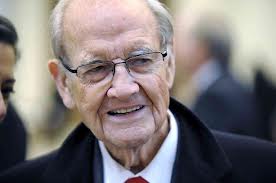 George McGovern was a Great Plains liberal and leading voice against the Vietnam War who in 1972 suffered one of the worst political defeats in American history as the Democratic nominee for president against incumbent Richard Nixon.
Mr. McGovern, who died Sunday at age 90, helped engineer a historic turn to the left by the Democratic Party, fracturing its traditional coalition of groups such as organized labor and big-city political machines.
Mainstream Democrats deserted the party in droves, and Mr. Nixon, who had never trailed in polls, won the popular vote 61% to 38% and the electoral college, 520-17. The only state Mr. McGovern carried was Massachusetts.
Mr. McGovern was a decorated World War II bomber pilot and former history professor. A former director of the Food for Peace program in the Kennedy administration, Mr. McGovern at one point oversaw the distribution of lunches to 35 million schoolchildren in Asia, Africa and South America.
His 1972 candidacy came after raucous Democratic primaries in which he beat challengers from his party's center, including Sens. Edmund Muskie and Hubert Humphrey; and its right wing, Alabama Gov. George Wallace, who was shot and paralyzed while campaigning in Maryland.
Mr. McGovern was nominated on the first ballot at the Democrats' Miami Beach convention, but the country watched a party that seemed to have been taken over by activists. Then the campaign was shaken when it was revealed that the vice presidential candidate, Missouri Democratic Sen. Thomas Eagleton, had received shock treatment for depression. Mr. McGovern replaced him with Sargent Shriver.
Ending the Vietnam War was Mr. McGovern's signature issue in the 1972 election. He had called it "the Southeast Asia albatross."
But Mr. Nixon campaigned on ending the war, too, and the McGovern campaign sank. Whether justly or not, his name became a byword for lost causes and radical politics.
Ironically, and despite his lopsided victory, Mr. Nixon was also sunk by the election, as a coverup of his campaign's misconduct exploded into the Watergate scandal.
Born in Avon, S.D., Mr. McGovern was the son of a onetime minor-league second baseman turned Methodist minister. In his autobiography, "Grassroots," Mr. McGovern recalled an austere childhood including daily family prayer and Bible study. The family home stood within view of Mitchell's famed Corn Palace.
A high-school debating champ, Mr. McGovern enrolled at Dakota Wesleyan University and studied history. He also took flying lessons and, after Pearl Harbor, joined the Army and became a bomber pilot in a plane dubbed the Dakota Queen in honor of his wife, Eleanor. He flew 35 missions over Europe and at least twice landed badly disabled aircraft. He was awarded the Distinguished Flying Cross.
After the war, Mr. McGovern briefly studied for the ministry then switched to graduate study in history at Northwestern University. After receiving a Ph.D., he taught history at Dakota Wesleyan University and got involved in politics. He helped to revive the moribund South Dakota Democratic Party. In 1956 he became the first Democrat elected to Congress from his state in 22 years
On his second try, in 1962, Mr. McGovern was elected to the U.S. Senate. In his maiden Senate speech he assailed what he labeled a "dangerous Castro fixation that is not worthy of this great nation."
He was re-elected in 1968 and again in 1974 by South Dakota voters, many of whom appreciated his leadership on farm subsidies. But he was defeated in his 1980 bid for a fourth term. He sought the Democratic presidential nomination in 1984, but dropped out early. Later that year, he appeared on "Saturday Night Live."
"Anybody who's arrogant enough to run for president shouldn't fear 'Saturday Night Live,' " he told reporters at the time.
He wrote books on ending world hunger and the Founding Fathers. After his daughter died of hypothermia while acutely intoxicated, he wrote "Terry: My Daughter's Life-and-Death Struggle With Alcoholism."
For several years he was proprietor of the Stratford Inn in Stratford, Conn. After the inn went belly-up, he wrote an opinion piece in The Wall Street Journal in 1992 urging legislators to reduce red tape and frivolous lawsuits. "I…wish that I had had this firsthand experience about the difficulties that businesspeople face every day," Mr. McGovern wrote.
WSJ