Israeli navy intercepts Gaza-bound protest ship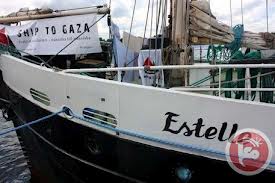 Israeli navy commandos early Saturday intercepted a Gaza Strip-bound ship carrying about 30 pro-Palestinian activists as it attempted to break through a maritime blockade of the impoverished seaside territory.
Israeli military officials said that after the ship refused to alter its course, soldiers took control of the vessel and directed it toward the Israeli port of Ashdod.
No injuries were reported.
The ship, called Estelle, was the last attempt by activists to bring attention to Israel's naval blockade around Gaza. The boat carried cement and other supplies that Israel currently restricts from entering Gaza because it says they could be used to build military bunkers or weapons. Among the passengers were parliament members from Greece, Norway, Sweden and Spain, activists said.
In 2010, Israeli commandos killed nine Turkish activists on a similar protest ship when passengers violently resisted being taken over.
The Israeli government has called the protest ships a provocation and defended its naval blockade as necessary to ensure that militant groups in Gaza do not receive weapons.
Critics say Israel should relax its restrictions on land borders to permit the importation of more building supplies.
"If Israel wants to exercise its authority as occupying power to stop ships from reaching Gaza, it must fulfill its obligation to allow free movement of people and goods via the land crossings, subject only to individual security checks," said Sari Bashi, director of Gisha, an Israeli group that has criticized the blockade.
LA Times