Syrian Rebels Get Missiles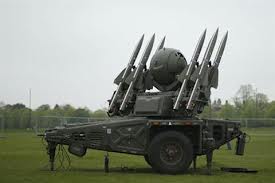 Some Syrian rebel factions have obtained advanced portable antiaircraft weapons, according to rebels and regional officials, a development that could alter the Syrian war's trajectory and fan U.S. concerns that such weapons could end up in the hands of anti-Western Islamist militias.
Video footage uploaded to the Internet earlier this week appears to show rebels in Aleppo using weapons that military experts and rebels say are heat-seeking, shoulder-fired missiles, the first documented instance in the conflict. Versions of the weapons—also known as man-portable air defense systems, or Manpads—have been smuggled into the country over the past two months through Turkey and to a lesser extent Lebanon, according to Syrian rebels and those who supply them arms through an "operations room" coordinated by regional governments.
"Northern Syria is awash with advanced antitank and antiaircraft weapons. The situation has changed very quickly," a Syrian involved in coordinating weapons procurement with regional states said. The Manpad transfers weren't sanctioned by the regional states that have armed and financed Syria's rebels since early this year, he added.
On Wednesday, fighters said they downed a military helicopter in the town of Maarat al-Nouman, in the northern Idlib province, one of at least four helicopters and jets they say they have brought down across Syria this week. It couldn't be determined how the craft were brought down. But the reported incidents, three of which are documented on videos but couldn't be independently verified, appear to mark an increased pace over the roughly weekly downings reported in Syria since the summer.
U.S. officials oppose the introduction of such weapons in Syria, citing long-standing fears that they could wind up in the hands of anti-Western militias that could eventually use them against the U.S. and its allies, or sell them to terrorists. "Obviously, we are concerned about the proliferation of Manpads," said a U.S. official.
The rebels in Aleppo who are depicted in the footage uploaded to the Internet this week are identified as members of the al-Salam and Hamza battalions, two of the relatively unknown divisions in a mushrooming insurgency. Rebels with the two largest fighting factions in Aleppo couldn't identify the battalions in the videos, though they confirmed that Manpads acquired over the past two weeks had made their way into the city.
Turkey, Qatar and Saudi Arabia have delivered arms and funds to rebel groups in Syria in a covert alliance since this spring. Further behind the scenes, the U.S. and European countries have provided logistics and intelligence aid. U.S. officials and others say they don't believe the official sponsors are providing the controversial weapons, but rather that they are arriving through private smuggling and arms procurement networks.
"The way the money and supplies flow to these militias goes through so many channels," said Malik al-Abdeh, an independent Syrian activist and writer, who has tracked the arms pipeline in hopes of developing a more accountable rebel structure. "It's not like supplying one supermarket; its like supplying 100 million corner stores."
For rebels locked in a three-month battle with regime forces in Aleppo, airstrikes have been the major setback. Syria's regime forces had relatively free passage in the skies until this summer, and helicopter gunship attacks on rebel positions continue to be common. Antiaircraft weapons have the potential to give the rebels a decisive boost against regime air power, just as they did for fighters in Afghanistan who defeated the Soviet Union's occupying army there in the 1980s. It could force the Syrian air force to work from higher altitudes, with implications for collateral casualties.
"Bashar al-Assad has gone further in violence by using MiG jets and now drops barrels filled with TNT," French Foreign Minister Laurent Fabius said Wednesday ahead of a meeting with Syrian opposition representatives in Paris. "The strikes are less accurate, since there are now weapons forcing them to fly higher."
Most of the shoulder-fired missiles in rebel arsenals have come from Libya, smuggled into the country through the Turkish border without the official blessing of regional states or their Western backers, several rebel coordinators said.
Other shoulder-fired, surface-to-air missiles, which these rebels identified as Russian-made Strela systems, have been supplied by militant Palestinian factions now supporting the Syrian uprising and smuggled in through the Lebanese border, they said. Syrian military defectors also say they have been able to buy some SA-7's—a Russian-designed Manpad—from regime forces since the summer.
Lebanon's government has said it cracked down on smuggling through its borders, which rebels concede have been sealed to weapons transfers for months, making the recent deliveries a rarity. Turkey has repeatedly denied any involvement in supplying or facilitating weapons transfers to rebels in Syria.
Though rebels say the systems had started arriving in the summer, it remains unclear exactly how many have reached Syria. U.S. officials say probably no more than a handful have slipped through over the past few months.
U.S. officials say they are most worried about Russian-designed Manpads provided to Libya making their way to Syria. The U.S. intensified efforts to track and collect man-portable missiles after the 2011 fall of the country's longtime strongman leader, Moammar Gadhafi.
To keep control of the flow of weapons to the Syrian rebels, Turkey, Saudi Arabia and Qatar formed a joint operations room early this year in a covert project U.S. officials watched from afar.
The U.S. has limited its support of the rebels to communications equipment, logistics and intelligence. But U.S. officials have coordinated with the trio of countries sending arms and munitions to the rebels. The Pentagon and CIA ramped up their presence on Turkey's southern border as the weapons began to flow to the rebels in two to three shipments every week.
In July, the U.S. effectively halted the delivery of at least 18 Manpads sourced from Libya, even as the rebels pleaded for more effective antiaircraft missiles to counter regime airstrikes in Aleppo, people familiar with that delivery said.
"We were told that we need to get our house in order on the ground, and that it wasn't time yet," said a rebel representative involved in the delivery.
WSJ