Hezbollah commander Nassif killed in Homs, Syria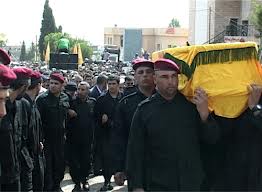 One of Hezbollah's most senior operatives has been killed in Syria and buried in his home village in Lebanon's Bekaa valley, the militant group has confirmed.
Ali Hussein Nassif, a founding member of the organisation, was killed near Homs over the weekend in what is believed to have been a roadside bomb explosion. A Lebanese government official confirmed on Tuesday that his body had been transferred from Syria through the Masnaa border crossing.
Media outlets loyal to Hezbollah, including al-Manar television and the moqawama.org website both carried stories acknowledging Nassif's death, which they said had happened as he "carried out his jihadi duties". The reports did not specify where he had been killed.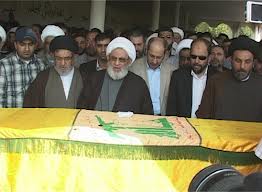 Officials in Nassif's home village of Buday suggested that seven other Hezbollah members had recently been wounded in Syria. A separate report claimed that a second Hezbollah member, Zain al-Abidin Mustafa had also been killed "while carring out his obligation". Senior party officials are reported to have traveled from Beirut to attend his funeral in the party's heartland of Baalbek.
The issue of Hezbollah members fighting in Syria has remained deeply sensitive since the earliest days of the uprising. For most of the past 18 months, the Shia Islamic group had steadfastly denied that its members were in action alongside Syrian forces, despite emphatic claims from rebel groups and opposition figures.
While openly acknowledging the party's support for the embattled regime of Syria's Bashar al-Assad, Hezbollah leader Hassan Nasrallah had claimed it had only leant moral backing. However, new graves in cemetaries in Lebanon designtated for members deemed to have died as martyrs have steadily been dug throughout the summer. There has also been reported discontent among family members who had lost relatives.
Until now, little fanfare, or even acknowledgement, had marked the burials and Tuesday's news reports, complete with photographs of Nassif's funeral procession, appear to mark a departure from a tactic of secrecy.
In August, officials in Iran — Hezbollah's key patron — also candidly admitted that members of the country's armed forces were deployed in Syria, where the Alawite sect — which is aligned to Shia Islam — is entwined with the power base. Other Iranian officials later denied the admissions.
Iran's Revolutionary Guards Corps, in particular the elite Quds Force unit, is a close ally of Hezbollah. Both are closely linked to the Assad regime. Syria, Iran and Hezbollah claim to act in unison as a resistance arc against Israel — the existence of which is Hezbollah's raison d'être.
However the group has, until now, been circumspect about its activities elsewhere. Hezbollah's presence in Syria potentially amplifies a sectarian dimension of the now raging civil war. The anti-regime insurgency is led by the country's Sunni Islamic majority.
A steadily increasing number of Sunni militant jihadists from outside Syria have also joined the fray since mid-July. The Assad regime has claimed since April 2011 that the popular uprising against it was an Islamist plot and has launched an evermore brutal crackdown against demonstrators and militias, which are composed largely of defectors from the regular military.
Some defectors have provided eyewitness accounts of Hezbollah members being deployed alonsgide them while they were still serving in the Syrian army.
Two defectors who spoke to the Guardian in August said they had seen the alleged Hezbollah operatives in Homs city and in the countryside near Qusayr, 15km from the Lebanese border.
"They were very open about who they were and why there were there," one of the men said iin the Turkish town of Reyhanli. "They said they were there for Jihad and to help Assad defeat the terrorists."
Guardian