Extra troops sent to Aleppo as death toll tops 31,000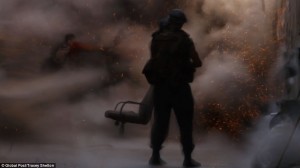 The Syrian army rained shells on opposition bastions in and around Damascus on Tuesday and sent extra troops to second city Aleppo, as a watchdog said the death toll from 18 months of violence now tops 31,000.
The fresh offensive came as Syrian authorities reportedly detained prominent human rights activist Khalil al-Maatouq while he was on his way to work in the capital on Tuesday, his rights group said in a statement.
"Members of the security forces this morning arrested fellow lawyer Khalil al-Maatouq, executive director of the center," said the Syrian Centre for Legal Studies and Research.
The center condemned the arrest, describing it as "a clear message to peaceful activists who defend human rights, and to lawyers who defend prisoners of conscience."
Thousands of people have been detained in Syria since the outbreak of a revolt against President Bashar al-Assad in March last year, many of them without charge, human rights groups say.
In Syria on Tuesday, at least 146 people were killed across Syria by security force gunfire, according to activists at the Syrian Network for Human Rights, cited by Al Arabiya TV.
Pro-regime daily al-Watan said on Tuesday that extra troops were being sent to Aleppo.
"New reinforcements have arrived to support the army… and the armed men (opposition fighters) are now fatigued and have begun to flee to their villages and towns in the province of Aleppo and elsewhere," the paper said.
"This is a sign of the determination of the Syrian army to win the battle of Aleppo as soon as possible," it added.
A bombardment by the army of the opposition-held Harasta district in the eastern suburbs of the capital killed at least 11 people, two of them women, the Syrian Observatory for Human Rights said.
At least five civilians were killed in shelling in the city of Douma, northeast of Damascus, the Britain-based watchdog said, according to AFP news agency.
Amateur video posted by activists showed several vehicles carrying women driving off under cover of darkness in what they said was an exodus of Douma residents.
The army also bombarded a string of other towns outside Damascus, the Observatory said.
Activist network the Local Coordination Committees said more than 100 shells fell on Zabadani, once a resort destination known for its mild weather and scenic views but now devastated by the civil war ravaging Syria.
The official daily al-Baath said on Tuesday that the "end of security operations throughout Damascus province" was approaching.
Government forces "have destroyed many weapons caches and seized large quantities of ammunition and equipment… which indicates that the end of security operations throughout Damascus province is approaching," the newspaper said.
On July 18, opposition fighters carried out a massive bombing on a complex in Damascus, killing four security chiefs, including Assad's brother-in-law and the defence minister.
Since then, regime forces have pushed the opposition fighters to the outskirts of the capital but have lost control of several border crossings and are battling to fully retake Syria's second city of Aleppo, which has been the focal point of the conflict since mid-July.
Several districts of Aleppo were bombed on Tuesday, the Observatory said, a day after 22 civilians died in the violence ravaging the city of 1.7 million people.
Fighting at the weekend rocked the city's centuries-old UNESCO-listed souk and sparked a fire which damaged hundreds of shops and dealt a severe economic blow.
Violence also raged on Tuesday in the southern province of Daraa, the Observatory said. Nine opposition fighters were killed in an explosion at dawn near the Jordanian border. Nine people, including a pregnant woman, were killed in shelling and clashes in a camp for displaced people.
And Turkish troops fired across the Syrian border, killing a member of a Kurdish militia and wounding two others in the first such fatal shooting at the Turkish frontier, the Observatory said.
At least, 31,022 people have now been killed in violence since the uprising against President Bashar al-Assad's rule erupted in March last year, according to the Observatory's figures.
At least 4,727 people died in September alone, including 305 on September 26 — the bloodiest single day of the conflict.
U.N. Syria envoy Brahimi to return to region
The U.N. envoy to Syria, Lakhdar Brahimi, is to return to the region this week in a bid to revive international mediation efforts aimed at ending the country's deadly civil war, officials said.
Jan Eliasson, deputy to U.N. Secretary General Ban Ki-moon, said he did not know if Brahimi would be able to enter Syria, but hoped to persuade Bashar al-Assad's regime to "go in the direction of a reduction of violence."
Progress is far from certain but if the regime did reduce attacks, Eliasson said, it would be "followed by a reduction of violence on the other side."
"There are two ways it could go now: one is an escalation of hostilities with the belief by both sides that a military solution is possible," the deputy secretary general said.
"One would hope there could be a possibility of a reduction of violence and a ceasefire in the best of cases, that would enhance the chances to have political movement."
Syrian Foreign Minister Walid Muallem said a political solution was still possible if the West and Gulf states halted support for the rebels.
"Brahimi will work from Cairo from next week onward, so that he is in the proximity of the region and can work very closely with Egyptian colleagues," Eliasson added.
Al Arabiya