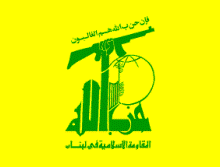 Three explosions were heard Wednesday between the villages of Nabi Sheet and Khraybé and in Baalbek area  , Beqaa region in Eastern Lebanon, reported the state owned National News Agency (NNA). According to the NNA, the reasons for these explosions are not clear.
Local media reported that the explosions have taken place in an arms depot. According to Voice of Lebanon (VOL) , "Hezbollah has surrounded the building where the explosions took place".
VOL also reported that a four-story building collapsed due to the explosion, quoting witnesses as saying that a number of bodies were still beneath the rubble.
MTV reported that Hezbollah members were cordoning off the site of the blast and preventing security forces from entering the area. According to analysts this is exactly what Hezbollah does whenever an explosion takes place in any of its arms warehouses . Several incidents of this type took place in south Lebanon in recent months.
AFP sources confirmed that 7 people have so far been reported dead in Nabi Sheet as a result of the explosions .
LBC reported that the home of Mohammad Ali Reda Moussawi was completely destroyed as a result of the explosions, with several surrounding buildings also sustaining damage. Ambulances rushed to the scene to transfer the wounded (nearly 4) to nearby hospitals.
Baalbeck , Beqaa region is a Hezbollah stronghold. Following the 2006 war Hezbollah reportedly moved most of its arms from south Lebanon to the Beqaa region.
Update: Voice of Lebanon (VOL) reported that the death toll will be miuch higher than 7
This error message is only visible to WordPress admins
Error: No connected account.
Please go to the Instagram Feed settings page to connect an account.