Russia tells NATO to stay away from Syria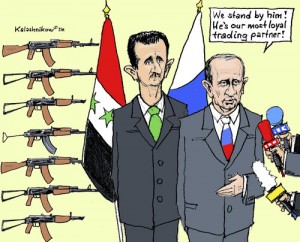 Russia told NATO and world powers on Tuesday they should not seek ways to intervene in Syria's civil war or set up buffer zones between rebels and government forces.
Moscow further called for restraint between NATO-member Turkey and Syria, where violence along their shared border has strained relations between the former allies.
Tensions have flared since a mortar round fired from inside Syria struck the territory of Turkey. Ankara has threatened to respond if the strike were repeated.
When asked by Interfax if Moscow worried whether the tense border situation could prompt NATO to intervene to defend Turkey, its easternmost member, Deputy Foreign Minister Gennady Gatilov warned against any such step.
"In our contacts with partners in NATO and in the region, we are calling on them not to seek pretexts for carrying out a military scenario or to introduce initiatives such as humanitarian corridors or buffer zones."
Turkish Prime Minister Tayyip Erdogan, one of Assad's most caustic critics, recently lashed out at Russia for blocking efforts at the U.N. Security Council to exert pressure on Assad and said Moscow's stance allowed massacres in Syria to continue.
Turkey has floated the idea of setting up "safe zones" inside Syria to protect civilians from the conflict but that would also have to be approved by the Security Council.
Russia and China have vetoed three Security Council resolutions condemning Syrian President Bashar al-Assad and have blocked attempts to impose further sanctions on his government or intervene more directly in the conflict.
Ankara has repeatedly complained of artillery and gunfire spilling over the border into Turkey, leading to threats of retaliation.
"We believe both Syrian and Turkish authorities should exercise maximum restraint in this situation, taking into account the rising number of radicals among the Syrian opposition who can intentionally provoke conflicts on the border," Gatilov was quoted as saying.
The West accuses Russia of supporting Assad in the bloody 18-month conflict and imposing a stalemate in the Security Council as violence in Syria has spiraled.
Moscow says Syrians themselves should decide their fate and says it will veto any Security Council resolution that could serve as a springboard for military intervention.
Russia accuses the West of overstepping its mandate when it set up a no-fly zone in Libya last year, leading to the fall of Muammar Gaddafi to a popular uprising and insurgency.
Western diplomats in Moscow say Russia seems to believe Assad may still successfully cling to power though they see Russia's dialogue with some Syrian opposition groups as an attempt to secure its interests there if he were overthrown.
Reuters