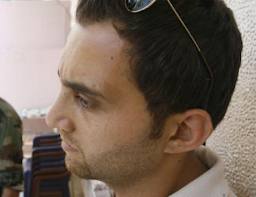 A journalist working for several major international media publications was tortured for almost a month by Lebanese security forces, a media rights watchdog said on Tuesday.
Rami Aysha was arrested on August 30 and released on bail on September 27, after being held on unclear charges centred on alleged weapons-buying, Paris-based Reporters Without Borders (RSF) said.
Aysha was carrying his camera and press card when he was kidnapped by armed men in south Beirut, where he was reporting on arms trafficking, the watchdog said.
"They took me to a nearby place where they put a pistol to my temple and asked me on which side I wanted the bullet," Aysha said.
"They broke my camera on my head," the RSF statement quoted the journalist as saying, adding that they also broke his finger. "I was sure they were going to kill me."
Aysha was then turned over to the Lebanese intelligence service, RSF said.
"Still blindfolded, he was beaten by men who told him, 'Fuck you, fuck journalism!' From there, Aysha was transferred again, this time to the military police, where mistreatment continued," RSF said.
"RSF expresses its outrage over the entire episode.
"The organisation demands that Lebanese authorities thoroughly investigate the mistreatment, punish those responsible, and withdraw all charges against Aysha."
Another media rights watchdog, the Committee to Protect Journalists, reported last month that Aysha was first captured by Lebanese Shiite Hezbollah forces near Beirut's southern suburbs.
"The journalist has frequently covered arms smuggling from Lebanon to neighbouring Syria, which might be a reason for his detention," the CPJ said on September 14.
According to monitors, Lebanon has a better track record on press freedoms than most countries in the region, and journalists are rarely detained for doing their job.
But the country is politically divided over the revolt in neighbouring Syria, with Hezbollah and its allies supporting the regime of President Bashar al-Assad, and the opposition opposing it.
Syria dominated its smaller neighbour politically and militarily for three decades until it withdrew its troops in 2005.
KT/ AFP