Syria's FM, deputy head to Damascus via Beirut airport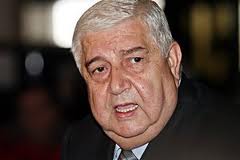 Syrian Foreign Minister Walid Mouallem and his deputy, Faisal Meqdad, landed in Beirut's Rafik Hariri International Airport on Tuesday afternoon on their way to Syria, National News Agency reported.
Mouallem and Meqdad arrived in Beirut from New York through Frankfurt, the report said and added that after arriving in Beirut, they boarded a Syrian private jet and headed to Damascus.
On 23 July 2012, the European Union imposed a new wave of sanctions on Syria, which included sanctions on Syrian Air. The sanctions meant that the airline cannot make flights to the EU, or buy any new aircraft which has parts made in the EU or aircraft made in the EU. As a result Syrian Air was forced to suspend all its operations to the EU.