Obama, Netanyahu united against Iran nuclear drive, report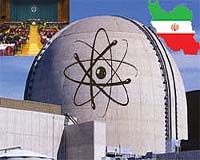 President Barack Obama and Israeli Prime Minister Benjamin Netanyahu on Friday expressed solidarity on the goal of preventing Iran from acquiring a nuclear weapon, the White House said, amid signs of easing tensions over their differences on how to confront Tehran.
Obama, who opted not to meet Netanyahu on his U.S. visit, spoke by phone to the Israeli leader, who used his U.N. speech on Thursday to keep up pressure on Washington to set a "red line" for Tehran. But in a softening of his approach, Netanyahu also signaled that no Israeli attack on Iran was imminent before the Nov. 6 U.S. presidential election.
"The two leaders underscored that they are in full agreement on the shared goal of preventing Iran from obtaining a nuclear weapon," the White House said in a statement. But it stopped short of saying Obama had given any ground on his resistance to issuing an ultimatum to Tehran as Netanyahu has demanded.
Mitt Romney, Obama's Republican presidential rival, was expected to speak by phone to Netanyahu later on Friday while the Israeli leader was in the New York.
Reuters