Oil pipeline blown up in northeast Syria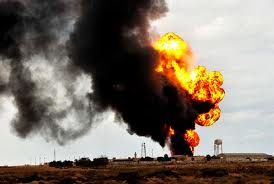 Unidentified attackers blew up an oil pipeline in the northeast Syrian province of Hasaka on Thursday, after a car bomb attack on an army checkpoint near Aleppo overnight, a watchdog said.
The latest violence came after more than 300 people were killed nationwide on Wednesday in what the Syrian Observatory for Human Rights said was the bloodiest day of the 18-month conflict so far.
"Unknown people blew up a crude oil pipeline before dawn in the Umm Madfaa region in southern Hasaka, causing a large fire. They also kidnapped the manager of the pumping station," Observatory director Rami Abdel Rahman told AFP.
The Britain-based watchdog said plumes of smoke could be seen rising from the scene of the burst pipeline in Hasaka, the main oil producing region in Syria, followed by neighbouring Deir Ezzor province.
Several attacks have targeted Syria's oil infrastructure since the uprising against the regime of President Bashar al-Assad erupted in March 2011, cutting production in half from pre-revolt levels of 420,000 barrels per day.
The oil fields, which mainly provide for domestic consumption, are guarded by special units of the army.
In Aleppo city, troops pummelled the southwest district of Kalasseh and the eastern district of Sakhur and nearby Suleiman al-Halabi street, leaving an unknown number of casualties, said the Observatory.
The violence followed a pre-dawn rebel attack on an army checkpoint in the northwest province of Idlib, about 25 kilometres south of Aleppo on the highway to Damascus.
Fierce clashes followed that raged into the morning, the watchdog said, adding that there were no reports of casualties.
In what appeared to be the same attack, a military source said clashes erupted overnight at a checkpoint in the same area after a minibus exploded.
"When we saw the bus with just one driver and no one else in it, we thought it was suspicious and told him to stop. He didn't and when we shot the driver the bus veered off the road and exploded," the source told AFP.
"The explosion was so big. We saw a huge fireball that even cut the electricity cables above," he added.
MSN.Co.NZ