Hezbollah chief calls for anti-Islam film protests in Lebanon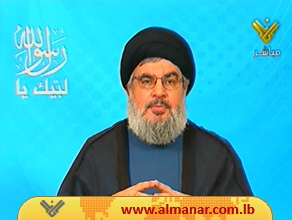 The head of Lebanon's Shi'ite militant group Hezbollah on Sunday called for nationwide protests over a film about the Prophet Muhammad, saying that the United States must be held accountable for creating strife between Muslims and Christians.
The call came as Western embassies across the Muslim world remained on high alert Sunday as protests continued from London to Lahore. Violence left one dead in Pakistan.
"We call for protests tomorrow in the southern suburbs (of Beirut) at 5 o'clock," Hezbollah Secretary-General Sayyed Hassan Nasrallah said in a televised speech. "Muslims and Christians must remain vigilant in order to refrain from sliding towards strife. Those responsible for the film, starting with the U.S., must be held accountable."
"All these developments are being orchestrated by U.S. intelligence," he said, adding that the U.S. government was using the excuse of freedom of speech in order to justify the continued broadcast of the film.
Nasrallah also called for demonstrations around Lebanon, including the southern coastal town of Tyre on Wednesday and the northern town of Hermel on Sunday.
The video, circulating on the Internet under several titles including "Innocence of Muslims", portrays Mohammad as a womanizer and a fool. In one clip posted on YouTube, Mohammad was shown in a sexual act with a woman.
Many Muslims consider any depiction of the prophet as offensive and fury about the film tore across the Middle East this week, with protesters attacking U.S. embassies and burning American flags.
The U.S. ambassador to Libya, Christopher Stevens, and three other Americans were killed in Benghazi, Libya, last Tuesday. At least nine people were killed in protests in several countries on Friday, but protests subsided over the weekend.
Nasrallah's speech came a few hours after Pope Benedict left Lebanon for the Vatican, ending a three-day tour in which he urged Arab leaders to serve justice and peace.
NBC News