Iran admits it has elite Quds force in Syria, Lebanon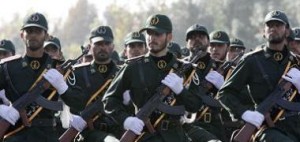 Syrian troops on Sunday fought rebel fighters in the country's two main cities Damascus and Aleppo, as Iran acknowledged for the first time it has elite forces present in Syria and Lebanon as "counsellors."
The latest violence comes as the new school term started on Sunday in Syria, where the UN says over 2,000 schools have been damaged or destroyed and hundreds more are being used as shelters.
And Pope Benedict XVI called in Lebanon on Sunday for peace in Syria and urged Arab countries to propose workable solutions to the conflict, which has killed more than 27,000 people.
Violence overnight and early Sunday killed another 15 people, the Syrian Observatory for Human Rights said.
The victims included four men killed as the army pounded the rebel southern Damascus suburb of Al-Hajar Al-Aswad, and at least four people were killed when a blast targeted a bus in the southern province of Daraa, the Observatory said.
Fighting erupted at dawn in the northeast suburb of Harasta, which was rocked by loud explosions, as blasts also rattled the northern suburb of Douma, said the Britain-based watchdog, which added that smoke billowed across both districts.
A child and a media activist meanwhile killed overnight in Aleppo, where the army and rebels have fought fierce battles since July to control Syria's second city and commercial hub.
The commander of Iran's Revolutionary Guards told a news conference in Tehran on Sunday that members of his elite special operations unit, the Quds Force, are present in Syria and Lebanon but insisted they were only there to provide "counsel."
"A number of Quds Force members are present in Syria and Lebanon… we provide (these countries) with counsel and advice, and transfer experience to them," Guards commander Brigadier General Mohammad Ali Jafari said.
"But it does not mean that we have a military presence there," he added.
Several Western and Arab countries accuse Iran of giving military aid to President Bashar al-Assad's regime as the Syria conflict becomes increasingly bloody.
The latest violence comes after Lakhdar Brahimi, the UN-Arab League envoy to Syria, warned after meeting President Bashar al-Assad in Damascus on Saturday that the conflict threatens both the region and the world at large.
"The crisis is dangerous and getting worse, and it is a threat to the Syrian people, the region and the world," said the newly appointed Brahimi, who took over as envoy earlier this month from former UN chief Kofi Annan.
The 78-year-old veteran Algerian troubleshooter, on his first Damascus visit since replacing Annan who quit after a hard-sought peace deal he brokered became a dead letter, stressed that "the solution can only come from the Syrian people."
He said he currently had "no plan" to tackle the crisis, but a strategy will be "set… after listening to all internal, regional and international parties."
Assad, quoted by state television, said dialogue between Syrians held the key to a solution and called on foreign countries to stop supplying arms to his foes.
"The success of political action is dependent on putting pressure on the countries that finance and train the terrorists, and which bring weapons into Syria, until they stop doing so," Assad said.
As fighting raged in Damascus and Aleppo, Pope Benedict XVI on Sunday celebrated mass in neighbouring Lebanon, praying that leaders in the Middle East work toward peace and reconciliation.
"In a world where violence constantly leaves behind its grim trail of death and destruction, to serve justice and peace is urgently necessary," Benedict said to an estimated 350,000 faithful at open-air mass in Beirut.
"May God grant to your country, to Syria and to the Middle East the gift of peaceful hearts, the silencing of weapons and the cessation of all violence," the pope said.
He also appealed to Arab countries that, "as brothers, they might propose workable solutions respecting the dignity, the rights and the religion of every human person."
Syrian's violence has spilled over into Lebanon where supporters and opponents of the Damascus regime have squared off in often deadly clashes over the past months.
On Saturday the 85-year-old pontiff had words of praise for young Syrians, saying: "I want to tell you how much I admire your courage."
Pupils headed back to schools on Sunday across Damascus, where most establishments reopened for a new term, which a UNICEF spokeswoman has described as one of "immense challenge."
"For children, being back at school is one of the most effective ways of giving them a sense of stability, hope and normality," said UNICEF's Marixie Mercado.
"It really is a hugely important way of enabling children who have gone through a nightmare to see that they do have a future."
At least 115 people, most of the civilians, were killed across Syrian on Saturday, according to the Observatory, which gathers its information from a network of activists, medical workers and other sources on the ground.
The death toll from 18 months into the Syrian conflict has risen to more than 27,000 people, according to the Observatory, which relies on activist accounts from the ground. The United Nations puts the toll at 20,000.
AFP