Netanyahu denies interfering in U.S. vote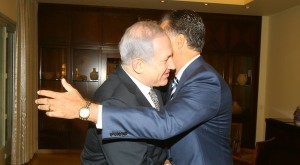 Israeli Prime Minister Benjamin Netanyahu on Friday denied accusations he was interfering in U.S. politics after coming under fire for fiercely criticising Washington's handling of Iran.
Relations between Netanyahu and President Barack Obama hit a new low this week after the Israeli leader said nations that failed to set red lines for Iran did not have the "moral right" to prevent Israel from launching a military strike.
He did not mention the United States by name, but the comments were clearly aimed at Obama and his administration.
Coming less than two months before a U.S. presidential election, critics accused Netanyahu of seeking to influence the vote – a charge the Israeli prime minister rejected in interviews published in local media on Friday.
"That's nonsense, because what's guiding me is not the election in the United States but the centrifuges in Iran," he told Israel's Hayom daily newspaper.
"If the Iranians … had stopped enriching material and preparing a bomb until the U.S. election was over, I would have been able to wait," he added.
Israel and Western powers believe Iran is developing the technology to build nuclear weapons. Tehran denies this and says its nuclear project is entirely peaceful.
Netanyahu has constantly urged the United States and Europe to apply more pressure on Tehran, believing that only the threat of credible military action will persuade Iran to back down.
However, this week's outspoken criticism – which followed days of incessant public demands for Washington to impose red lines on Iran – provoked a sharp response in parts of the U.S. press and a rare letter of admonishment from a U.S. senator.
"It appears that you have injected politics into one of the most profound security challenges of our time, Iran's illicit pursuit of nuclear weapons," California Democrat Barbara Boxer said, adding that she was one of Israel's staunchest supporters.
CLOSER TO ROMNEY?
In private conversations, sources close to Netanyahu have voiced a clear preference for Obama's opponent in the forthcoming election – Republican contender Mitt Romney.
Some Israeli press commentators say the right-wing Netanyahu is seeking to undermine Obama, with whom he has had notoriously testy relations, and bolster Romney, who has accused the White House of throwing "Israel under the bus".
They have also been quick to play up the close ties between the Israeli leader and casino magnate Sheldon Adelson, one of Romney's most generous financial backers who also bankrolls the fervently pro-Netanyahu Israel Hayom daily.
In his interview with Hayom, Netanyahu appears to take another swipe at Obama, questioning his administration's assurance that it will not let Iran develop the bomb.
"But what if the United States doesn't take action? That's the question that must be asked," he said.
An official in his entourage insisted that Netanyahu's sole concern was Iran. "The Iranians are not taking any notice of the U.S. presidential elections, so we cannot afford to either."
However, some senior members of the prime minister's Cabinet have urged him to halt public criticism of Obama and have queried his insistence on setting red lines.
In a stinging rebuke, Time magazine columnist Joe Klein accused Netanyahu of not only trying to sway the U.S. election but of also trying to shunt the country into a war with Iran. "Netanyahu's recent behavior is outrageous," he wrote.
The same magazine in May heralded Netanyahu as the "King of Israel" on its front page.
Reuters