Syrian filmmaker killed in Aleppo: opposition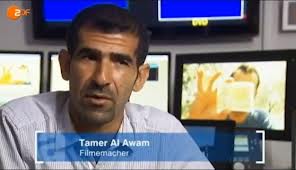 Syrian filmmaker Tamer al-Awam, 34, has been killed in the northern city of Aleppo, the opposition Syrian National Council said on Sunday.
"Syria lost one of its dear sons. Director and journalist Tamer al-Awam was martyred by the bullets of the murderous and treacherous regime on the front line of Aleppo," where fighting has raged between the army and rebels since mid-July, the SNC said.
"Originally from Soueida in the Druze mountain, he left Germany to join the media activists of the Syrian revolution to share his experience and bravery," it added.
A Syrian website, Syrian Documents, said Awam was killed on Saturday while shooting a film for the rebel Free Syrian Army.
Activists have reported a number of arrests and attacks against prominent media and cultural figures since the uprising against President Bashar al-Assad's regime began in March 2011.
The Local Coordination Committees, which has activists on the ground, last month reported that prominent independent film producer Orwa Nyrabia was missing after having gone to Damascus airport to catch a flight to Cairo.
He is believed to have been arrested.
On May 28, Bassel al-Shahade, a citizen journalist and filmmaker, and cameraman, Ahmed al-Assam, were killed in shelling as they filmed an attack by government forces in a district of the central city of Homs.
More than 27,000 people have been killed in the 18-month uprising, the Syrian Observatory for Human Rights said on Sunday.
AFP