Israel steps up defense plans against retaliatory attacks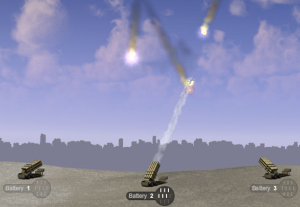 Israel has stepped up its home front defence measures against possible retaliatory attacks amid continued speculation about an Israeli military strike against Iran's nuclear sites.
As well as the deployment of active defence systems against incoming missiles, the distribution of gas masks, provision of bomb shelters and the testing of public information systems have accelerated.
In recent months, there has been an increase in demand for gas masks and inquiries about bomb shelters in parallel with the rising rhetoric emanating from the prime minister's office. But many citizens remain sceptical: participation in civil defence drills, for example, remains low.
Danny Avram, the owner of a bomb shelter construction and renovation firm, Ani Mugan ("I Am Protected"), said inquiries had increased tenfold over the past three weeks, although actual orders of work had only doubled. "The last few weeks have been very intense," he said. "There has been more talk, and the possibility has seemed more realistic to people. This happens every time something significant happens in the news. Bad news is good for business."
The distribution of gas masks to civilians has risen month by month since the spring. According to the Israeli Defence Forces (IDF), 17,573 kits were distributed in April, 38,775 in May, 41,242 in June and around 70,000 in July. But at least 40% of the 7.8 million population is still without a "personal protection kit". Yoav Cohen, of the military equipment firm Hagor, said the government was short of 3m gas masks, which he said would take months to manufacture.
Expectation of an imminent Israeli strike has been tempered in recent days by suggestions that President Barack Obama may be preparing to clarify the "red lines" set by Washington regarding the Iranian nuclear programme, beyond which the US will take action.
Some observers believe that the intention of the Israeli rhetoric has all along been to force the US to take a more robust position. However, others point to Netanyahu's lack of trust in the Obama administration and belief that Israel must be self-reliant in safeguarding its existential interests.
Officials say that reinforcement of homeland defence measures are necessary, regardless of the possibility of war in the coming months. An official commission of inquiry into the war with Lebanon in 2006 found serious deficiencies in home front defence.
The commission's chairman, the former supreme court judge Eliyahu Winograd, this week questioned whether the country had learned sufficient lessons for the possible war ahead. "We can expect a rain of missiles from all directions and I don't know how well the home front is prepared," he said.
But according to Yechiel Kuperstein, who was head of the home front command's physical protection unit during the last war, "the level of awareness is much higher than it was during 2006. If we faced the same level of threat, we would be OK. But the threat is going to be completely different, from another scale. Then the only thing you can do is cover the population with concrete."
Israel's military intelligence chief, Major General Aviv Kochavi, told a conference this year that an estimated 200,000 missiles and rockets were aimed at Israel and could be deployed by Iran's allies in the event of a war.
The military says they include at least 60,000 missiles located in Lebanon and controlled by Hezbollah, plus thousands more in Syria and Gaza. The number of missiles in Iranian hands is unknown.
These missiles are expected to reach further than before, with Tel Aviv expected to be a major target, along with cities, towns and small communities closer to the borders with Lebanon and Gaza.
Even so, Israel's defence minister, Ehud Barak, has suggested the number of Israeli casualties is unlikely to exceed 500. "There is no way to prevent some damage," he said last November. "It will not be pleasant. There is no scenario for 50,000 dead, or 5,000 killed – and if everyone stays in their homes, maybe not even 500 dead."
Israel has a government ministry devoted to home front defence. Its head is Avi Dichter, a former head of the internal security agency, Shin Bet, who was appointed last month. Netanyahu said at the time: "We're investing billions in protecting the home front. We're updating our early warning systems and our civil defence systems … as well as other forms of protection."
The Israeli military also has a home front command, created 20 years ago following the Gulf war, aimed at "protecting and informing the citizen population".
The government has reinforced underground bunkers in both Jerusalem and Tel Aviv, to which key personnel will relocate in the event of war.
Defence plans
• Missile defence
The Iron Dome mobile anti-missile system has been deployed by Israel to intercept rockets fired from Gaza since April 2011, with a claimed 80% success rate. Israel has four Iron Dome batteries, which are mobile, and two further batteries are expected to be operational in the near future. Last year, the US contributed more than $200m (£126m) in funding for and development of the Iron Dome system. The Arrow anti-ballistic missile defence system is designed to intercept long-range surface-to-air missiles. Arrow III is in development.
• Bomb shelters
All new buildings, both residential and commercial, constructed in Israel in the past 20 years have been required by law to include shelters. Around 30% of homes are estimated to have a reinforced safe room, but an estimated 25% of the population have no easy access to a bomb shelter.
Tel Aviv, Israel's second largest city but one that is likely to be the main target of incoming missiles, has designated 60 underground spaces, mostly car parks, to act as emergency public shelters in the event of war. The city has 240 official public bomb shelters, capable of holding 40,000 people – around 10% of Tel Aviv's population.
The northern city of Haifa, within reach of missiles from Lebanon, is planning to use an underground road tunnel as an emergency shelter.
The IDF's home front command website includes advice to families to designate a secure space or room within their home of at least five square metres.
• Public alerts
Last month, Israel conducted a week-long trial of an SMS missile warning system for civilians. Alerts in four languages – Hebrew, Arabic, English and Russian – were sent to mobile phones. In the event of war, text messages will contain "location-specific warnings based on the trajectory of rockets or missiles", according to the IDF. Public alerts and information are also expected to be issued by television stations operating from emergency studios.
• Evacuation
The home front ministry has discussed plans for the mass evacuation of civilians in cities in northern and central Israel to the Red Sea resort of Eilat and the southern desert area of Arava, according to Israeli media reports. Schools and hotels would be requisitioned, along with the provision of tents and caravans, to accommodate evacuees. The former home front minister Matan Vilnai said in June: "I have spoken to council heads in the Eilat district and they appreciate the importance of hosting residents of central and northern Israel at times of emergency."
Guardian.UK