Iraqi VP Hashemi Call His Death Sentence 'Unjust'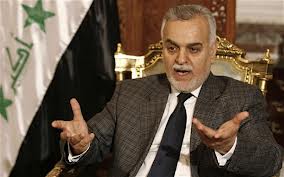 The vice president of Iraq, a prominent Sunni Muslim who was convicted of murder and sentenced to death in a trial conducted in absentia, denounced the verdict on Monday as "false and unjust," depicting the court's finding as "an acquittal, confirming my innocence."
The verdict on Sunday coincided with a wave of bombings and insurgent attacks that claimed at least 100 lives, making the day one of the bloodiest in Iraq since American troops withdrew last year.
Together, the verdict and the violence threatened to deepen an already intractable political crisis among the country's ruling factions.
Sunni leaders who support the vice president, Tariq al-Hashimi, responded angrily to the court's action, accusing the Shiite-led government of trying to sideline them from a power-sharing arrangement meant to guard against the sectarian violence that continues to plague the country.
Speaking in Arabic in a televised news conference in Turkey, where he is in self-exile, Mr. Hashimi declared: "For me, this verdict is an acquittal, confirming my innocence."
"All the accusations set against me are false and unjust," he said, referring to the verdict as politically inspired and saying that he was prepared to be tried by "a just court, but never at a court which is under the influence of" the Iraqi prime minister, Nuri Kamal al-Maliki, a Shiite. Mr. Hashimi urged his followers to remain calm and refrain from violence against their adversaries. He described himself as "a symbol of all oppressed, when hundreds of thousands of people remain in prisons."
He was speaking a day after attacks were reported in at least 10 Iraqi cities on Sunday, including Shiite neighborhoods of Baghdad, where two markets, a restaurant and a crowded square were struck, capped by a car bomb that exploded late in the evening in Sadr City, a Shiite stronghold in the capital. The attacks underscored the increasing potency of insurgent groups in Iraq, which appear to have blossomed amid the political paralysis that followed the American departure. Their attacks have tended to come in coordinated waves across the country, including the attacks by Sunni extremists on July 23 that killed about 107 people and appeared to reflect a spillover of sectarian strife from neighboring Syria, and the car and roadside bombings of Aug. 16 that killed about 100, including dozens at an amusement park in eastern Baghdad.
Earlier this summer, the country seemed to be moving toward a sense of normalcy, with an easing of checkpoints in the capital, new buses going into service and women returning to local cinemas. But the mounting insurgent violence has prompted the government to reimpose security measures and has revived a sense of siege in the cities.
In February, a panel of judges accused Mr. Hashimi of overseeing paramilitary death squads that were responsible for carrying out more than 150 attacks on political opponents, security officials and religious pilgrims over a period of six years. Mr. Hashimi has denied the charges, calling them part of a witch hunt against political opponents of Mr. Maliki. When an arrest warrant was issued for Mr. Hashimi, he fled Iraq for Turkey, and remained there while the trial went ahead without him.
The verdict handed down on Sunday did not address the death-squad charges directly but focused narrowly on the deaths of two people, a lawyer and a security official. Mr. Hashimi and his son-in-law were convicted of murder in both killings.
As expected, other Sunni leaders reacted angrily to the sentence.
"The whole thing from the beginning was a conspiracy against the Sunnis," said Sheikh Talal Hussain al-Mutar, the head of one of Iraq's main Sunni tribes. "The whole investigation and courts were fake and controlled by the government. This will make the situation in Iraq worse."
Shiite leaders, on the other hand, welcomed the verdict and defended the court. Ali al-Alak, a leader of the Shiite-dominated Dawa party and a close aide to Mr. Maliki, dismissed accusations of a conspiracy, noting that the nine-judge panel that sentenced Mr. Hashimi included representatives from all factions. He called on Sunni lawmakers to sever ties with Mr. Hashimi.
"The sentence is a victory for all Iraqis and a victory for justice," Mr. Alak said. "Why are they trying to defend him? What are they planning for?"
Opposition lawmakers have been assailing Mr. Maliki's government for months. Sunni Arab and Kurdish officials have accused Mr. Maliki of trying to monopolize power, and they have been attempting to force him from office through a vote of no confidence.
The factional infighting has led to a near collapse of political dialogue, raising fears that gaps in the government's control could once again be filled by insurgents.
No one immediately took responsibility for Sunday's bloodshed, which capped a summer of deadly violence. Lately, Al Qaeda in Iraq, the mainly Sunni insurgent group, has claimed responsibility for most high-profile attacks. The group recently announced on a jihadi Web site that it would attempt to reassert control over Sunni regions in the country.
Initially, the attacks on Sunday appeared to be aimed mainly at military and law-enforcement targets. The violence began just before dawn, when militant fighters stormed an army outpost in Dujail, a town about 35 miles north of Baghdad, officials said. At least 10 soldiers were killed and eight were wounded.
A series of explosions in Kirkuk, about 150 miles north of Baghdad, claimed at least 19 lives, and included a suicide car bombing outside a building where people had gathered to apply for security jobs at the government-run North Oil Company.
"We arrived early this morning to apply for jobs protecting Iraq's oil," said Sagban Nuri, 18, who was wounded in the abdomen. "A huge explosion took us by surprise. The bodies of my friends and relatives were blown away in front of my eyes," he said.
In Nasiriya in southern Iraq, a French consulate was the target of a car bomb that killed two Iraqi security guards, and another bombing in the city killed two civilians. Attacks were also carried out in Samarra, Basra, Amara and Mosul, among other cities.
NY Times