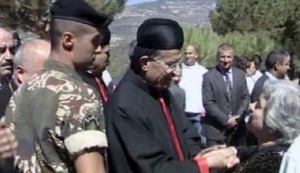 Christian Maronite Patriarch Beshara al-Rai headed Saturday to the Shouf region of Mt Lebanon on a two-day pastoral visit where he is expected to visit several churches and have lunch with Progressive Socialist Party leader MP Walid Jumblatt at his mansion in Mukhtara.
This is Rai's second visit to the Shouf since he was elected as the Patriarch. He visited the Shouf in August 2011 where he called for coexistence between Christians, Muslims and Druze, and urged Christians to hold onto their land.
His first stop was in Kfarhim village where he was received by its residents who expressed their happiness and appreciation for his visit.
In the Shouf region the Druze and the Christians have coexisted for centuries. Banners are seen everywhere in the Shouf region welcoming the Patriarch.
Rai earlier stressed that the Lebanese are raised on coexistence and urged citizens to preserve the national unity based on the "spirit of love and partnership."
Al-Rahi earlier also praised the upcoming visit of Pope Benedict XVI, saying that he chose Lebanon to deliver the apostolic exhortation, which represents the conclusion of a Middle Eastern synod in 2010 that emphasized the defense of Christian minorities in the region, because it's the land of peace.
"The visit of the pope is an opportunity for us to realize the importance of Lebanon… It will be a Lebanese Spring that will contribute to the Arab Spring," al-Rai Noted.
The Pope is scheduled to travel to Lebanon on September 14 on a three-day visit where he will meet with a number of senior officials.
Lebanon Prime Minister Najib Mikati declared Saturday September 15 as an official holiday on the occasion of the Pope's visit to Lebanon.
"Saturday, September 15 is an official holiday and all public administrations, institutions and municipalities, as well as private and public schools and universities, will be closed for the pope's official visit," said a statement by the Prime Minister