Clinton pessimistic on a deal with Russia over Syria crisis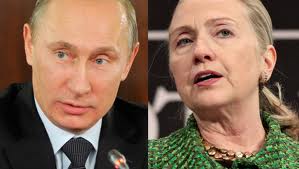 U.S. Secretary of State Hillary Clinton on Sunday gave a downbeat assessment of prospects for reaching agreement with Russia on how to handle the Syria crisis, saying her talks with Russian leaders had made little progress.
"We have to be realistic. We haven't seen eye-to-eye on Syria. That may continue," Clinton told reporters after talks with President Vladimir Putin and Foreign Minister Sergei Lavrov at a summit of Pacific Rim countries.
Clinton said that despite the lack of agreement with Russia, the United States would continue to work with like-minded countries to support the Syrian opposition in its struggle against Syrian President Bashar al-Assad.
Reuters