Raad slams March 14 memorandum over relations with Syria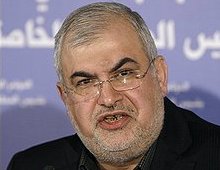 Hezbollah's parliamentary bloc leader MP Mohammad Raad slammed on Friday March 14's memorandum submitted earlier this week to the president, accusing the opposition of being involved in the "aggression" against Syria.
"March 14 submitted an inciting memorandum to President Michel Suleiman. It seems that the aim of this document is to incite against Syria and cover for March 14's involvement and participation in the aggression against Syria," Raad said during a press conference held at the parliament
The Hezbollah MP warned Suleiman that the memorandum "is targeting Syria and is oblivious to Israeli aggression against Lebanon."
"We call on Suleiman to be careful of the threats and goals of this memorandum, and we call on him to handle it in a responsible way."
The MP added that if the current government had been led by March 14, it would have taken the country "to war with Syria."
Commenting on March 14's call for to deployment of international troops along the border with Syria, Raad said that these calls implied suspicion of the Lebanese army.
"Such requests imply suspicions against the army and a rejection of the Lebanese army's deployment along the border with Syria ."
"The memorandum does not reflect concern over Lebanon's sovereignty as much as it reflects the insistence of March 14 to evade the Taif Accord and its articles governing relations with Syria."
March 14 memorandum
In a memorandum that was handed to President Suleiman by former Lebanese PM Fouad Siniora , the March 14 alliance urged President Michel Suleiman to "consider the Syrian ambassador to Lebanon as persona non grata because he… oversees operations of kidnapping, assault and liquidations."
The memorandum also called for the formation of a national salvation government and filing a complaint to the Arab League over Syria's repeated border violations.
The memorandum also demanded that the case of former minister Michel Samaha and Syrian security chief Ali al-Mamlouk be referred to the judicial council.
Samaha has reportedly admitted to transporting explosives to Lebanon with the assistance of Mamlouk and another senior Syrian general who was only identified by his first name of "Adnan".
Shelling from Syria into Lebanon and cross-border shootings have become near-daily occurrences in recent months according to officials in Beirut, and the spillover of the conflict is concerning the international community.
Lebanese Forces reposnse
Lebanese Forces bloc MP Antoine Zahra responded Friday to the statements made Raad against the March 14 alliance.
" If the current government, dominated by the March 8 coalition led by Hezbollah, had demanded that the Syrian government halts "its attacks" on Lebanon, the March 14 camp would not have submitted the memorandum to Suleiman.
Zahra also said that all Lebanese agreed on identifying Israel as "an enemy" and filing complaints against its attacks on Lebanon with the United Nations. Zahra questioned Raad's logic .
"I do not understand the logic used today by MP Mohammad Raad"
Hezbollah has been supportive of the Syrian regime in its crackdown against the opposition . Over 26, 000 Syrians have been killed , mostly civilians since the uprising began last March 2011
Now Lebanon