Syrian warplanes, helicopters violate Lebanon airspace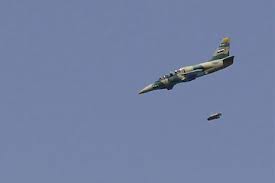 Syrian warplanes and helicopters flew Thursday morning over the northern region of Wadi Khaled at a low altitude, The Daily Star reported
The warplanes have been hovering over the border villages of Mqaybleh, Heesheh and Mashta Hasan since 6 a.m. on Thursday , security sources told the Daily Star.
Syria has been claiming that rebels fighting against the regime forces have infiltrated Lebanese border towns and has asked Lebanon to better control the border to prevent the smuggling of arms and gunmen.
North Lebanon border villages have come under heavy shelling form Syria on several occasions, at times resulting in the death of innocent civilians and destruction of Lebanese homes.
March 14 the main opposition coalition has called for the deployment of U.N. Interim Forces (UNIFIL) in Lebanon along the border with Syria, to put an end to Syria's violations.
Speaking to Reuters on Tuesday , Lebanon PM Najib Mikati acknowledged the Lebanese are deeply divided over the uprising against Syrian President Bashar al-Assad but he cautioned: "If this crisis reaches Lebanon, there will be danger for all Lebanese.
Mikati told Reuters that he asked his ambassador in Damascus to protest this week at Syrian shelling across Lebanon's poorly defined, colonial-era frontier, which residents say has killed more than a dozen Lebanese civilians.
"We have kept out of interfering in Syria but we cannot turn a blind eye to any error being committed against Lebanon, or the crisis to be imported into Lebanon," Mikati said.
The current Lebanese government is dominated by Hezbollah which is backed by Iran and Syria. Hezbollah leaders continue to support the Syrian regime in its crackdown against the Syrian people .
The Syrian regime continues to refuse to agree on border demarcation.
The Daily Star/ agencies