Ex-Gaddafi spy chief extradited to Libya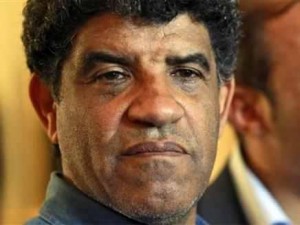 Mauritania extradited Muammar Gaddafi's former spy chief Abdullah al-Senussi to Libya on Wednesday, a Mauritanian government source and the state news agency said, after months of wrangling over who would put him on trial.
Senussi, among the most feared members of Gaddafi's regime before rebels toppled it last year, was captured in the West African state in March, triggering a tug of war between Libya, France and the International Criminal Court for his extradition.
"He was extradited to Libya on the basis of guarantees given by Libyan authorities," a Mauritanian government source told Reuters, without giving details on the guarantees. State media reported Senussi had been extradited on Wednesday morning.
The office of Libya's prime minister did not confirm the handover, saying in a statement only that a deal appeared imminent "within 24 hours". Libya's foreign ministry said separately that it would welcome Senussi's extradition.
A high-level Libyan delegation, including the justice minister and army chief of staff, was in Mauritania on Tuesday where it held meetings with Mauritanian authorities, the Mauritanian government source said, asking not to be named.
It was not clear if there was a court decision sanctioning the extradition.
A spokesman for the ICC, which has wanted to try Senussi on charges of crimes against humanity including murder and persecution, said it had received no information about a handover to Libyan authorities in Tripoli.
LINKED TO AIRLINER BOMBINGS
Senussi was arrested six months ago after arriving with a falsified Malian passport on a flight into the Mauritanian capital Nouakchott from Morocco. Mauritania's original plan was to put him on trial for illegal entry – a move that threatened to delay efforts to have him face international justice.
In its warrant for Senussi's arrest, the Hague-based ICC said he had used his position of command to have attacks carried out against opponents of Gaddafi, who was hunted down and killed by rebels after his ouster in August last year.
France has wanted to try Senussi in connection with a 1989 airliner bombing over Niger in which 54 of its nationals died.
Senussi has also been linked to the 1988 bombing over Lockerbie, Scotland of an American PanAm jet that killed 270 people. Diplomatic sources have said the United States was keen to question him about that attack.
Gaddafi's son, Saif al-Islam, is to go on trial in Libya this month, a government source said in August, in what would be the most high-profile prosecution of a figure from the late dictator's 42 years in power.
Libya's new rulers, who aim to draw up a democratic constitution, are keen to try Gaddafi's family members and loyalists at home. But human rights activists worry that a weak central government and a relative lack of rule of law mean legal proceedings will not meet international standards.
Saif al-Islam is also wanted by the ICC for crimes against humanity during the uprising that brought down his father.
Reuters