PM:Lebanon can "drown" in Syria bloodshed, urges unity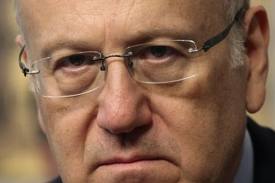 Lebanon's fractious communities will "all drown" together if they let Syria's civil strife spill over the border, the prime minister warned, as he called on factions to pull together and resist seeking partisan advantage from the Syrian violence.
Speaking to Reuters, Najib Mikati acknowledged the Lebanese are deeply divided over the uprising against Syrian President Bashar al-Assad, which has taken an increasingly sectarian turn.
But in an interview late on Tuesday he cautioned: "If this crisis reaches Lebanon, there will be danger for all Lebanese.
"Nobody should think that he will benefit and the other party will be in danger. We are all in one boat and if it takes on water in this ferocious storm sweeping the region we will all drown," added Mikati, a moderate figure who gets on with rival regional powers Syria and Saudi Arabia and with Western states.
Mikati, who spoke at the Ottoman-era Grand Serail government building overlooking the rebuilt heart of once war-torn Beirut, has struggled to insulate his small nation from the bloodshed in its larger, and long dominant, neighbor. It is a task made nearly impossible by the close historic ties between Beirut and Damascus, and by Lebanon's own sectarian divisions.
Many Sunni Muslims in Lebanon actively support the mainly Sunni revolt against Assad, who follows the minority Alawite faith which has links to Shi'ite Islam. Lebanese Shi'ites, among them the militant group Hezbollah, have mostly backed Assad.
Fighting in Mikati's own home town of Tripoli between an Alawite minority and a Sunni Muslim majority has rekindled fears of renewed strife in Lebanon, which from 1975 endured 15 years of civil war that saw regional players Israel, Syria, Iran and the Palestinians all use it as a proxy battleground.
A wave of kidnappings last month reinforced a sense of eroding national security while the arrest of a pro-Syrian Lebanese former minister and sporadic Syrian incursions and cross-border shelling have escalated friction with Damascus.
TENSIONS WITH DAMASCUS
Mikati said he asked his ambassador in Damascus to protest this week at Syrian shelling across Lebanon's poorly defined, colonial-era frontier, which residents say has killed more than a dozen Lebanese civilians.
"We have kept out of interfering in Syria but we cannot turn a blind eye to any error being committed against Lebanon, or the crisis to be imported into Lebanon," Mikati said.
A businessman who made a fortune in telecommunications, he is a Sunni Muslim – as all Lebanese premiers have been under a system which divides the offices of state among communities. His own political ties illustrate the fraught balancing act that he – and Lebanon – have pursued since his appointment last year.
His native Tripoli and fellow Sunnis across Lebanon overwhelmingly support the Syrian uprising, but the core of his Hezbollah-backed government is sympathetic to Assad. And Mikati himself had close links to the Syrian leader, although he says he put aside personal ties when he took office last year.
A tall figure, Mikati's imposing physical presence contrasts with his softly spoken manner. He often pauses to choose his words, weighing their impact in a tense political climate.
He implied that traditionally frequent contact between governments in Syria and Lebanon had dried up – apart from this week's protest over the border shelling.
President Michel Suleiman has publicly called on Assad for an explanation after a pro-Assad former Lebanese minister and two Syrian officials were indicted in Lebanon for trying to carry out attacks to incite sectarian fighting.
Responding to a warning by Syria's information minister that violence would spread to Lebanon unless Sunni Gulf powers Saudi Arabia and Qatar stopped shipping weapons to the Syrian rebels through Lebanese territory, Mikati said the authorities in Beirut were doing what they could to stop arms shipments.
"It is regrettable that anyone can use Lebanon as a tool to threaten the other … This is an unfair statement," he said, pointing to the interception of a ship carrying weapons and the fact that some other consignments were seized at Beirut airport.
"Lebanon is carrying out its duties fully."
KEEPING THE CRISIS OUT
The 56-year-old Mikati, who also briefly served as prime minister in 2005 during the turbulent aftermath of the assassination of former premier Rafik al-Hariri, said that despite a rash of kidnappings his country was not returning to the lawlessness of the civil war years.
A powerful Shi'ite clan seized more than 20 people including a Turkish businessman last month after the detention of one of their family by rebels in Damascus. They briefly threatened to take more captives from Gulf Arab countries which support the anti-Assad insurgency, but have released most of their captives.
Mikati said the kidnappings were a response to a particular incident, and that he was "certain and confident" that it was not part of a longer-term strategy.
"We are passing through difficult circumstances and the entire region is boiling. Unfortunately, some elements feel they can undermine the state," he said. But, he added, the state "will bring to justice all those who are sabotaging security".
He also called on Lebanon's Christians, Druze and Sunni and Shi'ite Muslims to work to keep the country together.
"So far we have kept Lebanon out of the crisis," he said.
"I hope that we remain capable of preventing the fighting and the crisis spilling over into Lebanon. This cannot happen without the unity of the Lebanese."
Reuters