Strained Syrian army calls up reserves; some flee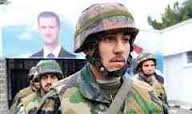 Syria is calling up former soldiers from the reserves to active army service in growing numbers, a sign of the strain of efforts to crush the 17-month-old revolt against President Bashar al-Assad.
Several fleeing reservists and a serving army officer told Reuters that thousands of men had been called up in the past two months to bolster the 300,000 strong army, and many of them are failing to report for duty.
"We have two choices: Stay and kill fellow Syrians, or desert, and be on the run from military courts," said a legal assistant summoned for duty in Damascus. Like others interviewed for this article, he asked not to be identified for security reasons.
One army officer contacted in Homs said he believed that only half of those called up in recent months had reported for duty, although it was not possible to verify that figure or ascertain whether other units had experienced similar levels of reservists failing to report.
The officer said many units had suffered heavy losses battling rebels.
"There is a shortage of men. A lot of fighters have been killed, and we have desertions," he said by telephone, sighing.
Most Syrian men are required to serve in the army for two years when they turn 18 or after finishing university. After a man has served, he remains in the reserves and can be called up for active duty.
Syria's conflict has killed more than 20,000 people. Fleeing reservists said that whatever their political stance, they did not want to be part of the country's civil war.
The fighting has intensified in the past two months, with rebels, often led by army defectors, launching advances in the capital Damascus and commercial hub Aleppo despite being massively outgunned by one of the region's best-equipped armies.
Syrian authorities, who say they are fighting foreign-backed terrorists, have not given full details of military casualties. One anti-Assad monitoring group, the Syrian Observatory for Human Rights, says nearly 6,000 soldiers and members of the security forces have been killed.
DEMAND RISING
The Homs officer said reservists had been called up for several months but demand had risen in the past two months, especially since the surge in fighting in Damascus and Aleppo.
"We have yet to need full army mobil