March 14 urges Lebanon president to expel Syria's envoy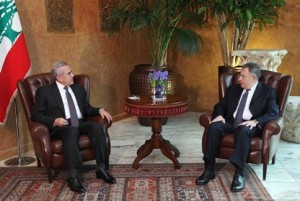 Lebanon's opposition on Tuesday called for the expulsion of Syria's ambassador to Beirut, accusing him of being behind kidnappings and attacks on Syrian activists in the country.
In a memorandum that was handed to President Michel Suleiman by former Lebanese PM Fouad Siniora , the March 14 alliance urged President Michel Suleiman to "consider the Syrian ambassador to Lebanon as persona non grata because he… oversees operations of kidnapping, assault and liquidations," citing Syrian opposition activists.
The memorandum also called for the formation of a national salvation government and filing a complaint to the Arab League over Syria's repeated border violations.
The Lebanese opposition has repeatedly condemned the alleged abduction of Syrians in Lebanon by supporters of the embattled Damascus regime.
The March 14 coalition also called for "the suspension of the security agreement signed between the two countries," while warning Lebanese against visiting Syria and advising those in the country to leave.
The memorandum also demanded that the case of former minister Michel Samaha and Syrian security chief Ali al-Mamlouk be referred to the judicial council.
Samaha has reportedly admitted to transporting explosives to Lebanon with the assistance of Mamlouk and another senior general identified only by the first name of Adnan.
Shelling from Syria into Lebanon and cross-border shootings have become near-daily occurrences in recent months according to officials in Beirut, and the spillover of the conflict has worried the international community.
On Sunday morning, Shells fired from Syria landed on northern Lebanese border towns in the Akkar district.
In July, Lebanese President Michel Suleiman accused Syria of violating Lebanese territory after a house in the east of the country was hit by a blast and shells fell along the northern border. The president requested Foreign Minister Adnan Mansour to send a letter of complaint to the Syrian ambassador to Lebanon to address the issue.
On Monday, National News Agency reported that Mikati requested that Syrian authorities be warned of the negative repercussions that the continuous Syrian shelling of Lebanese border towns might yield.
More than 150,000 Syrians have fled to Lebanon, where supporters and opponents of Assad's regime have waged several rounds of deadly clashes in the northern city of Tripoli.
Now Lebanon/agencies