UN concerned as number of Syrian refugees in Lebanon surges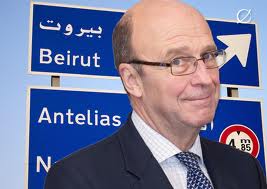 The growing number of Syrian refugees is proving to be an increasingly heavy burden on Lebanon, a United Nations senior official said today in his meeting with the Lebanese Prime Minister, during which he also expressed concern over the security situation along Lebanon's border with Syria.
In a press encounter following the meeting with Prime Minister Najib Mikati, the UN Special Coordinator for Lebanon, Derek Plumbly, also voiced concern over the spate of violence and kidnappings which have raised fears of renewed sectarian conflict in Lebanon.
"I am very conscious of the challenges to law and order that have occurred recently here, particularly the fighting in Tripoli that led to serious loss of life and the kidnappings in Lebanon and previously in Syria," Mr. Plumbly said.
"In that context, I would like to say that we strongly hope that all those who have been kidnapped will be released without any further delay. It is unacceptable that this situation should continue and people should be held in this way," Mr. Plumbly continued, adding that he welcomed efforts by Lebanese authorities to address the country's security challenges.
According to media reports, the last weeks of August witnessed fighting between supporters and opponents of the Syrian Government in the Lebanese capital, Beirut, which killed more than 12 people, while tensions also increased in other parts of the country, such as the northern city of Tripoli.
Turning his attention to the escalating refugee crisis, Mr. Plumbly noted that increased UN assistance was imminent as displaced Syrians continued to flee the violence in their country and cross the border into neighbouring Lebanon.
Syria has been wracked by violence since an uprising against President Bashar al-Assad began some 18 months ago, with an estimated 18,000 people, mostly civilians, killed and hundreds of thousands others displaced.
"I expect to see a further appeal from the United Nations to donors to assist in caring for the displaced people here in Lebanon because their numbers have increased and the burden is understood," Mr. Plumbly stated, referring to the swelling number of Syrian civilians seeking refuge in Lebanon.
In a recent news release, the Office of the UN High Commissioner for Refugees (UNHCR) confirmed that it was seeing an increase in the number of Syrian refugees arriving in eastern Lebanon's Bekaa valley, with local charities and authorities reporting about 2,200 people settling in the east over the past week – almost double the recent weekly average. Overall, some 51,000 Syrians have registered or applied to register with UNHCR in Lebanon.
Moreover, in addition to the continuing wave of refugees, cross border incursions and shelling have also contributed to the precarious state of security along the Lebanese-Syrian border.
"We are looking now with more urgency at what we can do to help the security authorities here in Lebanon to control the border as it should be," he added.
Overall, UNHCR has stated that the total number of Syrians who have registered as refugees or are awaiting registration, as of 2 September, stands at 235,368 – with most of those seeking safety in Turkey, Jordan, Iraq and Lebanon.
UN.org
Photo: Special Coordinator for Lebanon Derek Plumbly.