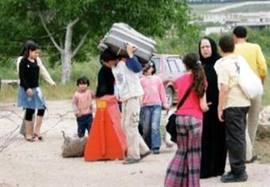 More than 103,400 Syrians fled to neighboring countries in August — almost doubling the total number of refugees from the previous 17 months combined, the U.N. refugee agency said Tuesday.
In all, more than 235,300 refugees are registered or awaiting registration, with more streaming across borders every day.
Inside the war-torn country, the head of the Red Cross is negotiating with Syrian officials this week for better access to civilians tormented by the bloody civil war.
Peter Maurer, president of the International Committee of the Red Cross, met Tuesday with Syrian President Bashar al-Assad, an agency spokeswoman said.
Maurer will meet with other officials Tuesday and Wednesday and might give a briefing of his talks later this week, spokeswoman Cecilia Goin said.
The flow of aid has hardly kept up with the pace of violence in Syria, with scores or hundreds of people reportedly killed each day. Medics resort to makeshift clinics and crude supplies to treat the wounded, sometimes without electricity.
The ICRC and the Syrian Arab Red Crescent have provided almost 180,000 Syrians with food and other essentials since mid-July. But some of the most desperate civilians remain trapped in relentless violence.
"In those places where fighting is taking place, it's very hard to access those people in need," Goin said.
"The humanitarian situation is deteriorating fast."
Last month, U.N. humanitarian chief Valerie Amos offered a grim account of the civil war's toll on the masses: more than a million uprooted; a million more in need of urgent aid.
Amos said she is "extremely concerned that all parties of the conflict are failing to comply with international humanitarian law, which sets out clear rules on the protection of civilians."
"This conflict has taken on a particularly brutal and violent character," she said after visiting Damascus.
Al-Assad's regime has said it will let aid groups already in the country expand their operations but won't allow new aid to enter.
The government is worried the aid would get into the hands of "armed groups and terrorists," a phrase it uses to describe those seeking al-Assad's ouster.
Goin, the ICRC spokeswoman, said her group has previously asked for a cease-fire to deliver aid. But bloodshed across the country has only intensified since.
"The national authorities and the armed opposition groups, they must respect and help facilitate" access by aid workers, Goin said. "The only goal of the organization is humanitarian."
CNN