Lebanon president inks the new electoral draft law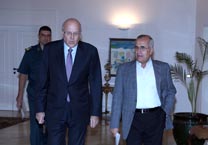 President Michel Suleiman signed on Saturday the new electoral draft law that was approved by the cabinet and referred it to the parliament, National News Agency reported .
Lebanon's Cabinet approved earlier in August the electoral draft law that called for proportional representation and divided the country into 13 districts.
Lebanon was divided into the following electoral districts:
Beirut 2, south Lebanon 2, Bekaa 3, north Lebanon 3 , Mount Lebanon 3.
The new electoral law was approved by the majority of ministers. The ministers that represent Progressive Socialist Party leader MP Walid Jumblatt's bloc voted against it.
While Hezbollah and its March 8 allies welcomed the the new electoral draft law Former Lebanese PM and current Future Movement leader MP Saad Hariri rejected it and said it will not pass in parliament.
March 14 MP Ammar Houry told Voice of Lebanon as soon as the draft law was approved : "The draft electoral law as approved by the cabinet is the law of sedition…. a preparation for a civil war…it is the draft law of Jalili and its representative "Hezbollah" , a possible reference to Saeed Jalili, secretary of Iran's Supreme National Security Council.
Lebanese Forces leader Samir Geagea said during a press conference in early August that the new electoral law favors March 8 alliance and called for smaller electoral districts to ensure proper representation during the 2013 parliamentary election.
Phalange Party's Central Committee Coordinator MP Sami Gemayel, told MTV early August that he rejects the draft electoral law adopted by the cabinet, stressing that it was tailored to serve the electoral interests of the ruling Hezbollah led March 8 coalition and predicting that "it will be defeated in parliament."
Observers say that there is no way the new law will pass because March 14 with the help of jumblatt's MP will regain the majority in parliament .
Suleiman Mikati meeting
Suleiman held talks earlier with Prime Minister Najib Miqati at the Beiteddine palace.
They discussed the latest developments including the president's visit to Iran to attend the Non-Aligned Movement summit.
The two also reportedly discussed the measures that the army and the Foreign Ministry should take in order to deal with the continuous Syrian violations of the Lebanese territories.