Lebanese detainees in Syrian prisons is a humanitarian issue,JM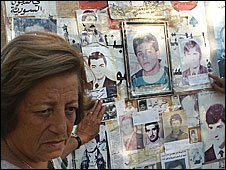 Lebanese Justice Minister Chakib Kortbawi told Voice of Lebanon  (93.3) on Sunday: I have been dealing with the issue of the Lebanese detainees in Syrian prisons for years …. this issue is  humanitarian , and the people have the right to know the whereabouts of their loved ones, and for this reason  we must   open a new  file  for this   in order to bring it to an end .
He added: This is one of the issues   mentioned in the ministerial statement, and it must not remain only ink on paper  , but we have to work to resolve it .
Commenting on the recent release of one of the longest serving Lebanese prisoners in Syria after 27 years in jail, Yaaqoub Chamoun, Lebanese Forces leader Samir Geagea said yesterday during the annual "Memorial Mass for the Martyrs of the Lebanese Resistance."
"The Syrian regime has claimed that it no longer had Lebanese detainees in its jails except for those charged with criminal offenses. Chamoun's release proves that the Syrian regime is lying… and confirms that we still have Lebanese people detained in Syria who are still alive."