GCC nations urge Lebanon to steer clear of Syria crisis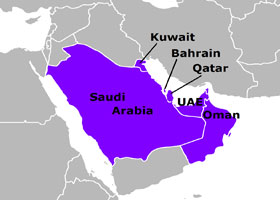 The Gulf Cooperation Council on Sunday called on the Lebanese parties not to involve their country in the Syrian crisis.
In a statement issued at the end of its regular meeting in Jeddah, Saudi Arabia the foreign ministers of the six Gulf states underlined their support for Lebanon's "security, stability, sovereignty and unity," and called on all Lebanese factions to uphold "the national interest" and prevent any attempts aimed at "disrupting Lebanon's security and drag it into the Syrian crisis."
GCC which includes Saudi Arabia, Qatar, Kuwait, Bahrain, Oman and the United Arab Emirates was formed in 1981 as a security alliance to counter post-revolution Iran.
In a related development the U.N. Security Council on Thursday also warned against attempts to destabilize Lebanon as it renewed the mandate of the U.N. peacekeeping force in the country for another year.
GCC nations including Bahrain, Kuwait , Qatar, Saudi Arabia UAE warned their citizens last month against travel to Lebanon, triggering the worst tourism season since the civil war ended in 1990, according to the country's hotel association.