UN chief tells Iran to prove nuclear program peaceful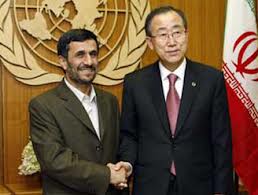 U.N. chief Ban Ki-moon met Iran's president and supreme leader in Tehran on Wednesday to urge them to take concrete steps to prove the country's nuclear program is peaceful and to use their influence to help end Syria's 17-month conflict.
Ban's spokesman Martin Nesirky said that in Ban's separate meetings with President Mahmoud Ahmadinejad and Supreme Leader Ayatollah Ali Khamenei, he further said their verbal attacks on Israel were offensive, inflammatory and unacceptable.
Ban arrived in Tehran on Wednesday for a three-day visit to attend a meeting of some 120 non-aligned nations. He defied calls from the United States and Israel to boycott the event.
"He said Iran needed to take concrete steps to address the concerns of the International Atomic Energy Agency and prove to the world its nuclear program is for peaceful purposes," Nesirky, speaking from Tehran, told reporters in New York.
Iran says its program is peaceful, but Western powers and their allies fear it is aimed at developing atomic weapons. Iran has been hit with four rounds of U.N. Security Council sanctions for refusing to halt its nuclear enrichment program.
On Syria, Ban urged Iran's leaders to use their influence to call on Syria's President Bashar al-Assad to end the violence and create conditions for "credible dialogue and a genuine political process that meets the will of the Syrian people."
"The secretary-general very strongly believes that Iran, given its regional influence and its influence in Syria, has an important role to play and be a part of the solution," said Nesirky, adding that Ban also called on all states to stop supplying weapons to all sides in Syria.
Last week the United Nations said Iran appears to be supplying Syria with weapons, as the 17-month conflict that began as a popular uprising against Assad slides deeper into civil war.
The United States, which along with other western nations has been extremely wary of Iran's efforts to solve the Syria crisis, said that it agreed Tehran has a role to play.
"The role it can play is it can break with the Assad regime and stop providing material support and arms and advisors and all of these kinds of things," State Department spokeswoman Victoria Nuland told a news briefing.
Ban expressed concern about the human rights situation in Iran and also said that he strongly objected to recent remarks by Iran's leaders on Israel.
Earlier this month Ahmadinejad said there was no place for the Jewish state in a future Middle East and Khamenei said Israel would one day be returned to the Palestinian nation and would cease to exist.
"He said such offensive and inflammatory statements were unacceptable and should be condemned by all," Nesirky said.
Reuters