McCain: Obama has 'emboldened our enemies'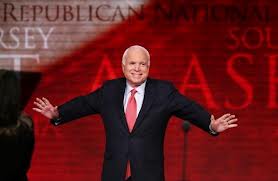 US Sen. John McCain blasted President Obama  Wednesday at the Republican National Convention, saying his 2008 presidential rival was on the wrong side on history for everything from his Middle Eastern policy to leaking secrets to the press.
"The president has discouraged our friends and emboldened our enemies," said McCain, who suffered a bruising loss to Obama four years ago.
The Arizona Republican – a decorated Vietnam War Hero – spent much of his speech focused on foreign policy. He criticized Obama for not doing enough to help the Iranian dissident movement, Syrian protesters and Israel.
"Our president is not being true to our values," he said.
Those values, according to McCain, include a strong military unafraid of taking action against our enemies and defending our allies.
"For the sake of our nation … we must return to our best traditions of American leadership," he said.
He also took a swipe at Obama, saying he leaked information about the raid that killed Osama Bin Laden that put the lives of service men and women at risk.
Several Navy SEALs have come forward in the past few weeks accusing the president of jeopardizing their lives by revealing too much about the raid.
NY Post