Bahraini activist cleared of defamation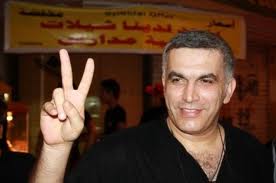 A Bahraini court has overturned a three-month jail sentence against activist Nabeel Rajab and cleared him of defamation charges, the state-run Bahrain News Agency reports.
But Rajab will remain in prison, where he is serving a three-year term for taking part in anti-government protests.
Rajab, 48, was sentenced to three months in jail in July for comments on Twitter calling for the resignation of Prime Minister Khalifa bin Salman al-Khalifa.
The activist, who heads the Bahrain Centre for Human Rights (BCHR), has been arrested several times for supporting anti-government protests and documenting alleged human rights abuses.
Meanwhile, the BCHR said 13 jailed activists would start a hunger strike unless recent government restrictions on their family visits, phone calls and exercise were cancelled.
Amnesty International has recently called for the release of the 13 prisoners, including BCHR founder Abdulhadi al-Khawaja who is serving a life sentence for his part in the protest movement in the Gulf country.
Bahrain's Shi'ite Muslim majority launched a popular protest last year to demand more political rights from the ruling Sunni royal family.
SMH/ DPA