Armstrong to Be Stripped of Tour Titles, Banned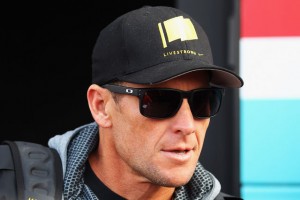 Cyclist Lance Armstrong will be stripped of his record seven Tour de France titles and banned from the sport for life after refusing to fight drug allegations by the U.S. Anti-Doping Agency.
"He will be banned for life and loss of results since Aug. 1, 1998," Annie Skinner, a USADA spokeswoman, said in an e-mail last night. An official statement will be issued today, she said.
Armstrong's attorneys sent a letter to USADA yesterday saying he would not seek arbitration of the agency's accusations that he used and trafficked prohibited drugs, allegations the cyclist said were part of an "unconstitutional witch hunt."
"If I thought for one moment that by participating in USADA's process I could confront these allegations in a fair setting and — once and for all — put these charges to rest, I would jump at the chance," Armstrong said in a separate statement. "But I refuse to participate in a process that is so one-sided and unfair."
His decision came three days after a federal judge in Armstrong's hometown of Austin, Texas, rejected the cyclist's request to block USADA from proceeding with its case.
Armstrong, 40, won the Tour de France every year from 1999 to 2005, a record for the sport's most prestigious race. He survived testicular cancer early in his career, and created Livestrong, a charity that has raised more than $470 million for the fight against cancer, according to its website.
Prohibited Drugs
USADA, the anti-doping organization for U.S. Olympic sports, notified Armstrong in June that he, three doctors and two officials from the cyclist's former U.S. Postal Service racing team were accused of using and trafficking prohibited drugs, according to court filings. The Colorado Springs, Colorado-based agency said Armstrong could choose to have an independent panel of arbitrators decide the matter.
Armstrong has said for years that he has never failed a drug test and has repeatedly denied using banned substances.
Travis Tygart, USADA's chief executive officer, said in a statement released yesterday by the agency that "it is a sad day for all of us who love sport and our athletic heroes."
"This is a heartbreaking example of how the win-at-all- costs culture of sport, if left unchecked, will overtake fair, safe and honest competition," Tygart said.
U.S. District Judge Sam Sparks threw out Armstrong's lawsuit Aug. 20, saying he had to arbitrate the group's allegations under the terms of his cycling contracts. Armstrong claimed USADA had no authority over him and that its proceedings were rigged. The cyclist faced a deadline of last night to respond to the agency.
'Troubling Aspects'
Sparks, while rejecting Armstrong's claims, said there were "troubling aspects" in the lawsuit against the USADA, including the appearance of conflicts of interest on the part of the agency and an international cycling federation that has backed Armstrong's position, as well as the cyclist's claims that the USADA's procedures violate his right to see and question the evidence against him before an arbitration hearing.
In February, federal prosecutors in Los Angeles ended a criminal probe involving Armstrong and his racing team without filing charges.
Floyd Landis, Armstrong's former teammate who was stripped of the 2006 Tour de France title because of doping, sent cycling authorities e-mails in 2010 accusing Armstrong and U.S. Postal team officials of breaking doping rules.
Teammate's Allegations
Tyler Hamilton, another teammate, alleged Armstrong used a blood-boosting drug while winning his first Tour de France title in 1999. Hamilton tested positive for blood doping at the 2004 Athens Olympics and was suspended twice for using performance- enhancing drugs. The International Olympic Committee stripped Hamilton of his gold medal in the individual time trial from the Athens Games on Aug. 10.
Armstrong's attorneys said Landis and Hamilton weren't believable as witnesses against their client.
"The ethical implications for an inquisition based on hearsay from witnesses to whom USADA has promised leniency are questionable at best," attorneys Robert Luskin of Washington- based Patton Boggs LLP and Timothy Herman of Austin-based Howry, Breen & Herman LLP said in yesterday's letter to USADA.
After retiring from cycling in February 2011, Armstrong had been participating in triathlons until he was banned in June from participating in events organized by the World Triathlon Corp., which owns the Ironman series, because of the USADA allegations. Armstrong started his career as a triathlete before switching to cycling in the 1990s.
Armstrong said he would no longer address the USADA case, regardless of the circumstances.
"I know who won those seven tours, my teammates know who won those seven tours, and everyone I competed against knows who won those seven tours," Armstrong said in his statement. "Nobody can ever change that. Especially not Travis Tygart."
The federal case is Armstrong v. U.S. Anti-Doping Agency, 1:12-cv-00606, U.S. District Court, Western District of Texas (Austin).
businessweek.com