Egypt Requests $4.8 Billion From I.M.F.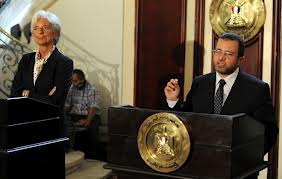 The Egyptian government on Wednesday requested a $4.8 billion loan from the International Monetary Fund, in the country's latest attempt to secure financing for an economy badly damaged by political upheaval since the fall of President Hosni Mubarak.
Egypt's prime minister, Hesham Qandil, said that he hoped to reach an agreement with the International Monetary Fund by December.
This year, Egypt requested a smaller loan but said at the time that the amount could increase because of the country's falling revenues from tourism and increasingly scarce foreign investment.
Speaking at a news conference with the monetary fund's managing director, Christine Lagarde, Mr. Qandil said that Ms. Lagarde's visit sent a message to the world that Egypt was "stabilizing."
The loan has been a contentious issue in Egypt, where there is much popular resentment against conditions required by Western lenders.
Members of the Muslim Brotherhood, Egypt's most powerful political party, had previously voiced reservations about accepting the I.M.F. loan.
But the country's new president, Mohamed Morsi, a former Brotherhood leader, has seemingly put aside those reservations as he grapples with Egypt's deepening financial crisis.
While the terms of a possible agreement are still being discussed, Mr. Qandil said that the interest rate on the loan, to be disbursed in several parts, would be 1.1 percent.
In recent months, Saudi Arabia and Qatar have lent the Egyptian government at least $3 billion.
Ms. Lagarde said that I.M.F. officials would travel to Egypt next month to discuss the loan further.
"Egypt faces considerable challenges, including the need to restart growth, and reduce budget and balance of payments deficits," she said in a statement.
NY Times