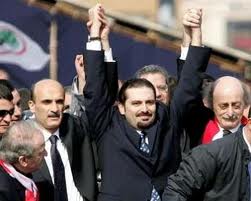 The Syrian judiciary has reportedly issued arrest warrants for Lebanese leaders "on charges of backing and financing armed groups," Sky News Arabia reported on Monday.
In an interview with Hezbollah's al-Manar television , Damascus' First Attorney-General Mohammed Marwan al-Loji said yesterday that "the Syrian judicial authorities are preparing arrest warrants for several Lebanese political figures, including lawmakers, on charges of providing all sorts of support to the armed terrorist groups in Syria, such as the trafficking of weapons and gunmen."
Loji declined in the interview to reveal any names but al-Manar quoted Syrian sources as saying that several Future Movement officials and MPs were involved, including former PM Saad Hariri and MPs Khaled al-Daher and Oqab Saqr.
Al Manar sources also revealed that arrest warrants might be issued for Progressive Socialist Party leader MP Walid Jumblatt and Lebanese Forces leader Samir Geagea.
This development comes after the Lebanese Military Court Judge Sami Sader charged former Information Minister Michel Samaha and Syrian security chief Maj. Gen. Ali Mamlouk with forming a group to commit crimes in Lebanon.
Commenting on the arrest warrants MP Ahmad Fatfat a key member of Future Movement told LBC on Tuesday : The judicial system in Syria is not credible since it is controlled by the Syrian regime and is issuing the warrants in response to the charges against Samaha and Mamlouk
This error message is only visible to WordPress admins
Error: No connected account.
Please go to the Instagram Feed settings page to connect an account.