Gen.Dempsey's plane hit by rocket in Afghanistan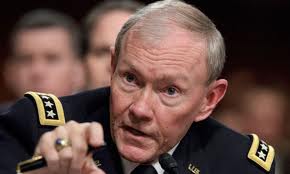 The plane of the U.S. chairman of the Joint Chiefs of Staff, Gen. Martin Dempsey, was damaged by enemy fire on the Bagram Air Field in Afghanistan, causing minor damage to the C-17 plane and leaving two American members of the ground crew with minor injuries from shrapnel, according to U.S. officials.
The plane was empty on the tarmac at Bagram when at least two projectiles struck it overnight, and Dempsey's trip to Afghanistan was not affected, according to a Pentagon spokesman . The top U.S. military officer was reportedly asleep in his quarters when the incident occurred.
Dempsey had left Bagram, which is just outside Kabul, by Tuesday morning. He reportedly flew out of Afghanistan on a different plane, due to the damage to his C-17 from the enemy fire.
The sprawling U.S.-controlled airbase regularly comes under rocket or mortar fire from outside of its perimeters, but the attacks rarely inflict significant damage.
The Joint Chiefs chairman arrived in Afghanistan Monday on an unannounced visit to meet with his top commanders in the country, as well as senior Afghan military and civilian officials.
His visit came amid a worrying spike in so-called "insider attacks" on U.S. and other international forces, whereby Afghan security forces turn their guns on the Western forces working alongside them.
CBS