At least 23 wounded in Syria-linked Lebanon clashes, update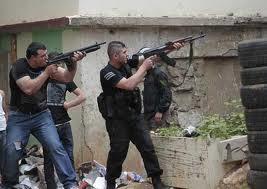 AT least 23 people have been wounded in running clashes between pro- and anti-Damascus regime supporters in Lebanon's second largest city of Tripoli, a security official says.
Exchanges of gunfire erupted on Monday and continued through the night between the mainly Sunni district of Bab el-Tebbaneh and the largely Alawite area of Jabal Mohsen.
Several houses caught fire and cars were damaged in the fighting, which has added to fears that the conflict in Syria is increasingly spilling over into Lebanon, destabilising the already fragile security situation.
The army, which responded on Monday to the source of the gunfire, withdrew on Tuesday from the aptly-named Syria Street, the symbolic "dividing line" between the rival Tripoli districts.
The Sunni-majority port city has been the scene of intense and sometimes deadly clashes between Sunni supporters of the anti-Syrian opposition and Alawite Muslims loyal to a Hezbollah-led alliance backed by Iran and Syria.
Syrian President Bashar al-Assad, who is fighting an increasingly bloody 17-month uprising against his regime, hails from the Alawite community, an offshoot of Shi'ite Islam.
The revolt in Syria has exacerbated tensions in Lebanon, which lived under three decades of Syrian hegemony and remains deeply divided between supporters and opponents of Damascus.
The Australian
Update: Seven soldiers of the Lebanese army were injured during the clashes in Tripoli, New TV reported on Tuesday.
The report added that a high-ranking officer was among those injured in the clashes.