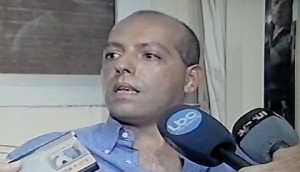 The Progressive Socialist Party on Monday praised the efforts of security forces, "especially the Internal Security Forces' Information Branch and the Judicial Police," to release Lebanese businessman Raja al-Zouheiri.
However, the party condemned the celebratory gunfire that took place in the Beirut area of Wata al-Msaytbeh following Zouhairi's and called on the security forces to investigate the issue.
The abductors of Zouhairi released him on Sunday after a three-day kidnap ordeal.
Speaking to reporters, Zouhairi said the kidnappers blindfolded him for several hours and moved him in several cars before reaching the place of detention.
"I was released this evening on the occasion of Eid (al-Fitr) as the guys told me. I left and arrived on the airport road and grabbed a taxi that took me home," Zouhairi said.
Zouhairi told reporters that he did not manage to identify his captors.
Zouhairi said that he did not pay any ransom and the abductors treated him in a good manner.
Zouhairi slammed the security forces who tried to liberate him, accusing them of shooting indiscriminately at the car instead of trying to target its tires.
Zouhairi revealed that he was abducted around 6:00 p.m. after leaving Lazy Beach in Jiyyeh.
NNA had reported on Friday that the assailants demanded one-million-dollar ransom in exchange for Zouhairi's release, .
NNA also reported that the kidnappers contacted Zouhairi's father-in-law demanding him to pay the ransom.
Zouhairi's car and some of his personal belongings were found in Aramoun just south of the capital Beirut on Friday, New ( al Jadeed) TV reported.
Zouhairi owns a gas station and auto service center in Wata El Mousaytbeh near the Cola roundabout in western Beirut , according to the report
This error message is only visible to WordPress admins
Error: No connected account.
Please go to the Instagram Feed settings page to connect an account.