Gemayel: Lebanon is a hostage in the hands of Hezbollah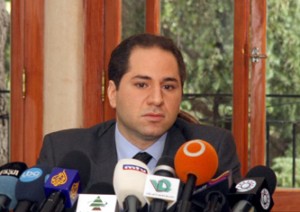 Phalange party MP Sami Gemayel said on Monday that the Lebanese state had become a hostage in the hands of Hezbollah and that the country is heading toward an inevitable civil war if the state fails to intervene and prevent people from violating the law.
"If the state does not exercise its constitutional duties to protect the Lebanese, provide stability for them and stop people from violating the law, blocking roads and using weapons the way they are using them, we are heading toward an inevitable civil war," Gemayel told France 24 television.
Gemayel also commented on the recent abductions of Syrian and Turkish nationals by the so called 'military wing' of the Al-Meqdad:
"There is no such thing as the 'military wing' of the Al-Meqdad clan because no one can operate in Dahiyeh without the consent of Hezbollah or the Amal Movement."
Members of the Lebanese Al-Meqdad (Mikdad) clan announced last Wednesday that their "military wing" abducted "more than 20 Free Syrian Army ( FSA) members" and a Turkish national.
The kidnapping is reportedly in retaliation to the abduction of Hassan al-Mikdad in Syria. The FSA identified the abductee as a Hezbollah member, but the militant group denied the report.
Saudi Arabia's ambassador in Beirut and the United Arab Emirates Foreign Ministry undersecretary said their countries' nationals should leave Lebanon immediately, as did Qatar and Bahrain. Kuwait's Foreign Ministry issued a similar warning "in anticipation of a spillover from the Syrian crisis," the state news agency KUNA reported.
Lebanon's government appeared largely unable or unwilling to stop the kidnapping spree and escalating violence. Hezbollah and its allies dominate the Cabinet, which has adopted a policy of "disassociation" from the events in Syria, trying to remain neutral. Hezbollah critics say it is assisting Assad in moving the conflict to Lebanon to divert attention from the deadly civil war raging in Syria, which activists say has left 22,000 dead in 17 months.
The al-Mikdad family is a powerful Shiite Muslim clan that originally comes from the eastern Bekaa Valley, an area where state control is limited and revenge killings are common. Like most tribes in this area they are involved in drugs and have their own militia, and security officials say many of its members are outlaws wanted on arrest warrants. The family's reach also extends to the Dhahiya a southern suburb of the capital which is controlled by Hezbollah militants.