Jordan protests Syrian rockets that wounded a young Girl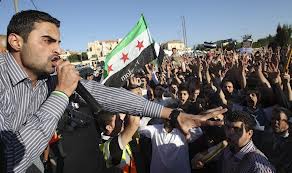 Jordan said Sunday that four rockets fired from neighboring Syria fell inside its northern border, wounding a young girl and sparking a letter of protest.
"A young girl was injured on Sunday after four rockets fell on an area near the border with Syria as a result of clashes inside Syria," Information Minister Samih Maaytah told Agence France-Presse. "We are in touch with the Syrian sides to determine what happened.
"The Jordanian government summoned the Syrian ambassador in Amman and gave him a letter of protest. Jordan rejects what happened and will make sure it does not occur in the future," Maaytah said.
Fighting continued in the northern city of Aleppo, and government helicopters have dropped leaflets urging residents not to shelter rebels and warning the Free Syrian Army it had one last chance to surrender, AFP reported.
Some of the leaflets dropped late Saturday, in what rebels and residents said was a first, were designed as official-looking checkpoints passes for supporters of the rebels wishing to surrender.
Follow us
MUST READ
Groupon Backers Desert Daily Deal Site
Investigation Continues Into Alleged Blasphemy Incident That Nearly Led To Death Of Pakistan Girl
Sponsorship Link
"The holder of this pass is allowed to cross security forces checkpoints to surrender. The holder of this pass will be well treated and reunited with his family after verifications are conducted," the leaflet read.
Other leaflets printed on pink or white paper urged the rebels to put down their weapons.
"Your last chance to stay alive is to give up your weapons because there is nothing you can do against the Syrian army. Don't miss that opportunity, go back to your family and stop fueling hatred around you," one said.
State TV, meanwhile, showed President Bashar al-Assad attending prayers at a Damascus mosque to mark the start of the Muslim holiday of Eid, in his first public appearance since a bomb struck at the heart of his regime on July 18.
Assad was shown at prayer with his new prime minister and foreign minister but not with his vice president, Farouq al-Shara, whose reported defection was denied the previous day.
The first day of Eid on Sunday also gave Assad's opponents a chance to rally and activists reported protests around Syria, including in the capital, on a holiday that marked the end of the Islamic holy fasting month of Ramadan, Reuters reported.
The London-based Syrian Observatory for Human Rights said more than 100 people had been killed on Sunday. The figure could not be independently verified. It reported fighting in Damascus, Deraa and elsewhere despite the start of the Eid holiday.
International Business Times