Wave of abductions in Lebanon continues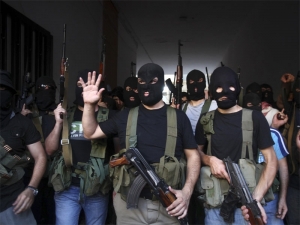 The wave of abductions in Lebanon continues as unknown assailants kidnapped a Turkish national in the town of Choueifat just south of the capital Beirut on Thursday night and took him to an unknown destination, National News Agency reported.
The report identified the abductee as Abd Basset Orssolane, who was driving a Mercedes truck.
so far no one claimed responsibility for the kidnapping that took place near the Coca-Cola bottling plant .
Members of the Lebanese Mikdad family announced on Wednesday that their "military wing" abducted "more than 20 Free Syrian Army ( FSA) members" and a Turkish national.
The kidnapping is reportedly in retaliation to the abduction of Hassan al-Mikdad in Syria. The FSA identified the abductee as a Hezbollah member, but the militant group denied the report.
Meanwhile Arabian Gulf citizens were urged to leave Lebanon after kidnapping threats were made against by the "military wing" of the Mikdad clan .
Saudi Arabia's ambassador in Beirut and the United Arab Emirates Foreign Ministry undersecretary said their countries' nationals should leave Lebanon immediately, as did Qatar and Bahrain. Kuwait's Foreign Ministry issued a similar warning "in anticipation of a spillover from the Syrian crisis," the state news agency KUNA reported.
But Hajj Maher Mikdad, the secretary general of the Mikdad Family League, later pledged not to attack anyone else from the Arabian Gulf, Lebanon's official National News Agency reported.
Lebanon's government appeared largely unable or unwilling to stop the kidnapping spree and escalating violence. Hezbollah and its allies dominate the Cabinet, which has adopted a policy of "disassociation" from the events in Syria, trying to remain neutral. Hezbollah critics say it is assisting Assad in moving the conflict to Lebanon to divert attention from the deadly civil war raging in Syria, which activists say has left 22,000 dead in 17 months.
The al-Mikdad family is a powerful Shiite Muslim clan that originally comes from the eastern Bekaa Valley, an area where state control is limited and revenge killings are common. Like most tribes in this area they are involved in drugs and have their own militia, and security officials say many of its members are outlaws wanted on arrest warrants. The family's reach also extends to the Dhahiya a southern suburb of the capital which is controlled by Hezbollah militants.