Lebanon dialogue talks postponed to September 20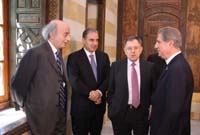 The absence of several officials, including Speaker Nabih Berri, Lebanese Forces leader Samir Geagea, Marada Movement leader MP Suleiman Franjieh and Deputy Speaker Farid Makari forced Lebanon's national dialogue committee which is chaired by President Michel Suleiman to postpone discussion of the controversial issue of the defense strategy .
The meeting was held this time the summer presidential palace in Beiteddine, National News Agency reported.
At the beginning of the session, Suleiman commented on the deteriorating security situation in Lebanon by underscoring the need to abide by the law and refer to legitimate institutions, according to NNA.
The attendees voiced their hope that the government would take all measures to enforce security over all Lebanese territory to preserve stability.
They also agreed on forming a delegation comprised of members of the national dialogue committee to resolve the issue of the 11 kidnapped Lebanese Shiite pilgrims who were kidnapped last May in the Aleppo province in Syria on their way back from Iran.
They also agreed on providing a suitable environment to ensure the success of Pope Benedict XVI's upcoming visit to Lebanon in September.
The next dialogue session was set for September 20, during which the attendees are expected to discuss the national defense strategy.
This is the third dialogue session this year. Lebanon's national dialogue committee convened on June 11 and June 25 at the Baabda Presidential Palace
Security concerns
As Safir newspaper quoted presidential sources in a report published on Friday that "relations between Berri and the president are excellent and his absence from the meeting on Thursday was due to security reasons and not because Syria told him to boycott the meeting as has been circulated in the media