Jumblatt ,Suleiman discuss electoral law, security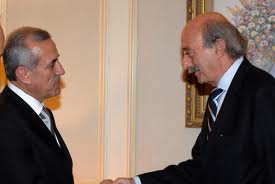 President Michel Suleiman visited Friday evening Progressive Socialist party leader MP Walid Jumblatt who hosted a dinner in his honor at his residence in Mukhtara, Shouf , in the presence of his son, Timor and PSP ministers: Ghazi Aridi, Aladdin Terru and Wael Abu Faour.
According to PSP sources this was the annual visit that the president makes to Mukhtara palace . The sources added that the main topics discussed during the visit were , the new electoral law that was approved by the cabinet and the security situation in the country.
The sources denied that Jumblatt brought up the issue of the withdrawal of his ministers from the cabinet ( as was widely speculated in the media) over the approval of the electoral law .
On Tuesday Lebanon's Cabinet approved an electoral draft law that called for proportional representation and divided the country into 13 districts.
Lebanon was divided into the following electoral districts:
Beirut 2, south Lebanon 2, Bekaa 3, north Lebanon 3 , Mount Lebanon 3.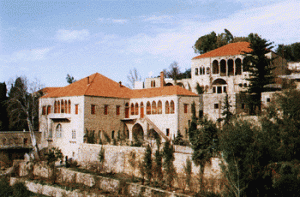 The new electoral law was approved by the majority of ministers. Only the ministers who represent Jumblatt's bloc and State Minister Ali Qanso voted against it
While Hezbollah and its March 8 allies welcomed the the new electoral draft law Former Lebanese PM and current Future Movement leader MP Saad Hariri rejected it and said it will not pass in parliament.
March 14 MP Ammar Houry told Voice of Lebanon on Wednesday : "The draft electoral law as approved by the cabinet is the law of sedition…. a preparation for a civil war…it is the draft law of Jalili and its representative "Hezbollah".
Lebanese Forces leader Samir Geagea said during a press conference on Wednesday that the new electoral law favors March 8 alliance and called for smaller electoral districts to ensure proper representation during the 2013 parliamentary election.
Phalange Party's Central Committee Coordinator MP Sami Gemayel, told MTV on Wednesday that he rejects the draft electoral law adopted by the cabinet, stressing that it was tailored to serve the electoral interests of the ruling Hezbollah led March 8 coalition and predicting that "it will be defeated in parliament."
According to observers, by insisting on the new electoral law, the Hezbollah led March 8 alliance have forced Jumblatt to return to the March 14 alliance. The observers concluded that there is no way the new law will pass because March 14 will be the new majority in parliament .