Syrian top brass get bodyguards to prevent defections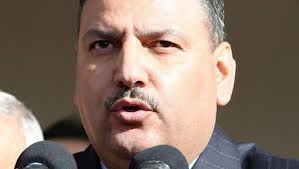 The Syrian prime minister Riyad Hijab joined the rebels in the most senior political defection from the regime of president Bashar Al Assad since the revolt against his rule began 16 months ago.
Apparently with the help of the rebel Free Syrian Army, Mr Hijab fled with his family to Jordan, where he will work with opposition forces.
Considered a staunch loyalist to Mr Al Assad, Mr Hijab accused the Syrian president of genocide against the civilian population, and said the regime that has controlled Syria for more than four decades was in its "final throes".
"I announce today my defection from the killing and terrorist regime … I have joined the ranks of the freedom and dignity revolution. I am from today a soldier in this blessed revolution," Mr Hijab said in a statement read by his spokesman, Mohammed Al Otri.
"Syria is passing through the most difficult war crimes, genocide, and barbaric killings and massacres against unarmed citizens," he said.
Mr Hijab, who was until his defection a rising star in the ruling Baath Party, is from the eastern tribal region of Deir Ezzor, which has been under a sustained heavy assault by government troops.
Opposition activists said that hundreds of people had been killed there in recent weeks.
Members of powerful tribes in the area that were once loyal to Mr Al Assad have, increasingly, been taking up arms against his regime.
The state-run media issued a terse announcement that Mr Al Assad had sacked Mr Hijab – who was named as prime minister only in June – and appointed Omar Ghalawanji as the caretaker head of government.
Sana, the official news agency, also took the unusual step of denying reports that two other government ministers – the minister of finance and the minister for religious affairs – had either defected or been arrested by security services while trying to flee the country.
Umran Zaubie, the information minister, brushed aside suggestions that desertions by government officials would deal a serious blow to the regime.
"Syria is doing fine and will continue to be so … there's absolutely no reason to worry," he said.
The prime minister's defection is the latest in a series of desertions that includes more than 30 senior army officers, including Manaf Al Tlass, who was a close friend of Mr Al Assad, thousands of soldiers and members of Syrian diplomatic missions.
On Sunday, three intelligence officials defected, among them Colonel Yarub Shara, a cousin of the deputy president, Farouk Al Shara, and, according to opposition sources, head of an important department in the Damascus branch of political security.
State media said that Col Shara was nothing more than a minor official dealing with statistics in the city's traffic management bureaucracy, and had nothing to do with the political security branch. This claim was dismissed by Syrian political analysts.
The post of prime minister has no decision-making authority in Syria.
The real power is in the hands of Mr Al Assad and his inner circle, none of whom has defected. But the network of more than a dozen intelligence agencies is of vital importance in controlling the country.
"The defections of such senior intelligence officers are hugely important and damaging to the regime," said a Syrian political analyst in Damascus. "A nightmare scenario for them is the intelligence apparatus breaking apart."
He also said that government ministers and officials had been assigned additional bodyguards, a move he described as designed to prevent defections more than to ensure their safety against rebel attack.
Fighting continued in Aleppo yesterday, in what is already a major confrontation between heavily armed loyalist army units and the Free Syrian Army.
Two days after the military claimed to have defeated the rebels in Damascus, fighting also continued there
Activists said that at least 90 people had been killed yesterday nationwide.
Overnight shelling and the sound of attack helicopters and heavy-machinegun fire could be heard across the capital and its suburbs, while dozens of checkpoints sealed off entrances to the city from the south during the day.
Rebel forces said government shelling had killed three Iranian hostages being held in a safe house by rebels.
Tehran, a key ally to Mr Al Assad, said the 48 prisoners are pilgrims but their captors insist they are Iranian military personnel who have been helping to suppress the uprising.
In Ruken El Deen, a neighbourhood close to the heart of Damascus, insurgents fought gun battles against regime troops during the afternoon.
In the morning, a bomb exploded in the head offices of Syrian state television, a heavily fortified building in Omayyad Square, next door to a Republican Guard compound and a few hundred metres from the ministry of defence headquarters.
The Nation