Gemayel rejects new Electoral Law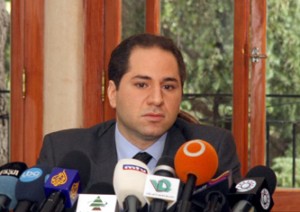 Phalange Party's Central Committee Coordinator MP Sami Gemayel, told MTV on Wednesday that he rejects the draft electoral law adopted by the cabinet, stressing that it was tailored to serve the electoral interests of the ruling Hezbollah led March 8 coalition and predicting that "it will be defeated in parliament."
Gemayel called on the Free Patriotic Movement to "shoulder its responsibilities concerning what was agreed on in the Bkirki committee, "as it cannot disregard what we worked on for six months as if it never happened."
His comments come after Lebanese Forces leader Samir Geagea said during a press conference on Wednesday that the new electoral law favors March 8 alliance and called for smaller electoral districts to ensure proper representation during the 2013 parliamentary election.
On Tuesday Lebanon's Cabinet approved an electoral draft law that called for proportional representation and divided the country into 13 districts.
Lebanon was divided into the following electoral districts:
Beirut 2, south Lebanon 2, Bekaa 3, north Lebanon 3 , Mount Lebanon 3.
The new electoral law was approved by the majority of ministers. Only ministers who represent PSP leader MP Walid Jumblatt's bloc and State Minister Ali Qanso voted against it
Former Lebanese PM and current Future Movement leader MP Saad Hariri rejected the new electoral draft law and said it will not pass in parliament.
March 14 MP Ammar Houry told Voice of Lebanon on Wednesday : "The draft electoral law as approved by the cabinet is the law of sedition…. a preparation for a civil war…it is the draft law of Jalili and its representative "Hezbollah".