Jumblatt against deporting any Syrian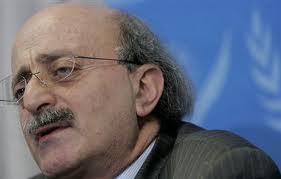 Progressive Socialist Party leader MP Walid Jumblatt said in remarks published by As-Safir newspaper on Monday that the explanations provided by the Lebanese General Security regarding the deportation of Syrian nationals last week did not not convince him.
"I was not convinced by the details provided by the General Security in their effort to explain the circumstances of the deportation of the Syrian nationals," Jumblatt said
"I am against deporting any Syrian under the current circumstances, whether they are criminals, political activists or common citizens, since the current events are not reassuring as to the [safety of the deported]," he added.
Jumblatt also said that it was not the right time for implementing the rule of law and agreements "word for word."
He added that there should be a security-judicial mechanism to enable the differentiation between refugees, activists and criminals so as to prevent the Lebanese security agencies from taking one-sided decisions.
On Wednesday, Lebanon deported 14 Syrians despite the raging violence over the border, drawing criticism from human rights activists.
Last week Jumblatt called on the Lebanese government to fire "if need be" the head of General Security over the deportation of the 14 Syrian men to Damascus.
"We call on the Lebanese government and the relevant authorities to clarify all the circumstances relating to this issue and to launch a probe to determine responsibility and take disciplinary measures against the director general of General Security [Maj. Gen. Abbas Ibrahim] — leading to his sacking, if need be, to stop this ongoing farce," Jumblatt said in a statement.
Now Lebanon