Egypt closes Rafah crossing after 16 soldiers killed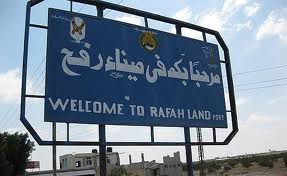 Egypt closed the Rafah crossing with Gaza Strip after a security checkpoint attack left at least 16 Egyptian soldiers dead and seven others injured on Sunday evening.
The crossing was closed indefinitely after masked gunmen attacked a checkpoint south of Rafah immediately after sunset prayer, a local security source told Xinhua.
After exchanging fire, the attackers escaped and the security forces were still pursuing them, said the source, adding the injured were in serious condition.
The attackers tried to flee the scene with two vehicles to the Gaza Strip, the official MENA news agency quoted a security source as saying.
After the attack, Egyptian President Mohammed Morsi held an emergency meeting with army and security leaders to discuss the situation.
"This cowardly attack will not go unpunished," Morsi later said in a statement. "Those who carried out the attack will pay heavily."
Morsi also offered condolences to the families of the dead.
"There is no room for appeasing this treason, this aggression and criminality. The troops will totally control Sinai," said Morsi in an interview with Egyptian state TV early Monday after the meeting.
Egyptian security sources said Jihadists were responsible for the attack.
Meanwhile, the Israel Defense Forces (IDF) said the attackers hijacked two vehicles and headed towards the Israeli territory near the Kerem Shalom crossing.
An IDF spokesmen said one vehicle exploded while crossing the border and the other was shot down by the Israeli air force. The spokesman said so far the identities of the assailants were unknown.
In a statement, Israeli Defense Minister Ehud Barak said the attack again raised the need for determined Egyptian action to enforce security and prevent terror in the Sinai.
Hamas also condemned "the ugly crime" committed against the Egyptian security guards and expressed condolences, according to a statement posted on the website of Gaza's Hamas leaders.
Hamas didn't fix blame for the attack, but denied militants from the Palestinian territory had been involved.
Since early last year, the security situation in Sinai has deteriorated. Hardline Islamists belonging to Jihad movements attacked police stations while local Bedouins committed several kidnappings of foreign tourists. The pipeline which exported natural gas to Israel and Jordan was also attacked more than ten times.
In late July 2011, dozens of armed men attacked a police station in Arish, capital of North Sinai, leaving six policemen dead and more than 10 injured.
Xinhua